Module to remove copy guard Cinavia in audio
DVD Fab Cinavia RemovalIs a Chinese software vendor DVDFab SoftwareCopy guard included in audio developed by (formerly Fengtao Software) Cinavia When you activate the product, not an app that runs standalone (standalone) with a module that removes DVD Fab Copy / Rip / Convert Cinavia detected in can be removed.
Illegality
In Japan, under copyright law Avoiding technical safeguards is prohibited and removing Cinavia protection violates copyright law.
Copyright law and illegal activities
About Cinavia
Cinavia is a technology that embeds a watermark in voice, which is inaudible to the human ear. Inaudible code Since 2012, DRM (Digital Rights Management), including Cinavia detection, will be implemented on all consumer Blu-ray players, except for devices specified by the Cinavia code. Cannot play normally.
Cinavia was used to prevent direct shots by camcorders in movie theaters and copy protection that circumvents Blu-ray AACS, but is now used in some DVD / Blu-ray / UHD Blu-ray titles. In many cases, it is limited to discs for the United States, and the impact of Cinavia is limited in Japan.

System requirements
Version 12. 0 Currently
OS: Windows 7/8/10/11
DVD Cinavia Removal / Blu-ray Cinavia Removal
CPU: Intel Core 2 Quad or above
RAM: 2 GB or more
Graphics: NVIDIA GeForce GTX 260 and above
UHD Cinavia removal
CPU: Intel Core 2 Quad or above
RAM: 4 GB or more
HDD: 1 TB or more free space
UHD BD drive: UHD Friendly drive Required
Where to get the software
Install DVDFab 12
DVDFab Cinavia Removal The DVDFab 12 Because it is a module ofDVDFab 12 All-in-one To install.
See below for installation instructions
DVDFab's strongest ripping / copying app with DVD / Blu-ray deprotection function DVDFab All-in-One is a Chinese software vendor DVDFab Software (formerly Fengtao […]]
How to use DVDFab Cinavia Removal
DVDFab Cinavia Removal When activated DVD Fab copy , DVD Fab ripping When it becomes available in and a removable Cinavia is detected, the Cinavia icon will be displayed in the voice.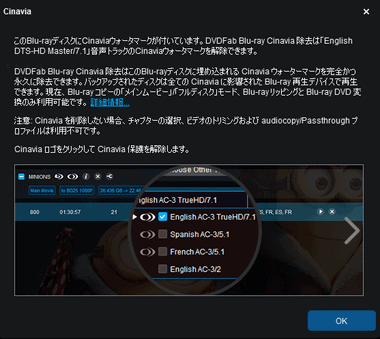 DVDFab Cinavia Removal When Cinavia is detected that can be removed by, the information of the audio track protected by Cinavia is displayed.

This disc is Cinavia protected.The backed up disc cannot be played on a player like the PS3.Play the playback device on a device that does not detect Cinavia.Is displayed Cinavia cannot be removed.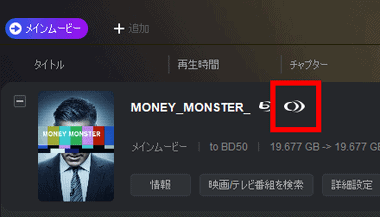 If Cinavia is detected regardless of whether it can be removed, an icon will be displayed in the title part.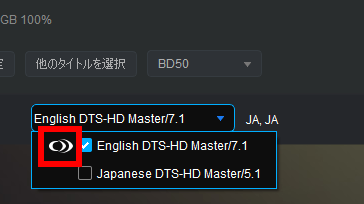 Cinavia that can be removed will have an icon at the beginning of the audio track.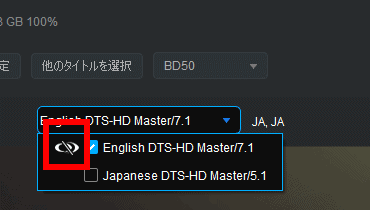 To remove Cinavia, click the icon to put "\" in it.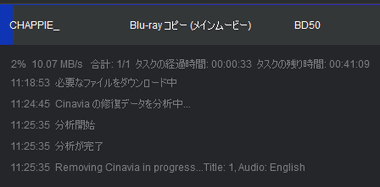 When output, it will be in the process Removing Cinavia in progress… Is included and Cinavia removal is performed.
How to Buy DVDFab Cinavia Removal
DVDFab Cinavia Removal has no license expiration date and can be permanently updated Indefinite edition And the license has an expiration dateSubscription version Is provided and the subscription version will be automatically renewed Cancellation procedure If you do not, you will be billed regularly.
DVDFab DVD Cinavia Removal Purchase Page
DVDFab Blu-ray Cinavia Removal Purchase Page
DVDFab UHD Cinavia Removal Purchase Page

To purchase a license, go to "Buy Now" on the product page.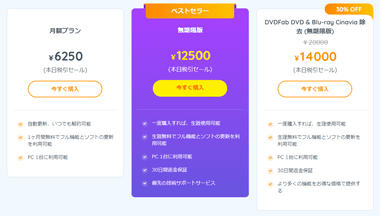 Click "Buy Now" in the plan you want to purchase to proceed with the purchase procedure.
After paying with a credit card, register as a member of DVDFab and activate the product with the registered email address and password.
Latest sale information and purchasing method ・ Cancellation of subscriptionSee the page below
DVDFab sale information and purchase procedure ・ Introducing license registration method DVDFab can remove the copy guard developed by DVDFab Software (formerly Fengtao Software) in China […]
Related article
DVDFab sale information and purchase procedure ・ Introducing license registration method DVDFab can remove the copy guard developed by DVDFab Software (formerly Fengtao Software) in China […]