DVDFab DVD / Blu-ray deprotection tool that also supports CPRM
DVDFab PassKey Is a Chinese software vendor Fengtao Software It is a utility software developed by the company that removes the protection of DVD / Blu-ray / UHD Blu-ray that resides in the system tray and is set in the drive.PassKey for DVD Then, Japan's unique copy guard Release CPRMAlso supported.
Free version restrictions
Some copy guards are not supported in the free version.
System requirements
Version 9. 4 Currently
OS: Windows 7/8/10/11
CPU: Pentium II 500 MHz
RAM: 1GB or more
Where to get the software
DVDFab PassKey Official Download Page
Install DVDFab PassKey
DVDFab PassKey To for DVD-for Blu-ray-for Recorder Is provided, but the apps are all the same, purchase and activate the module you want to use.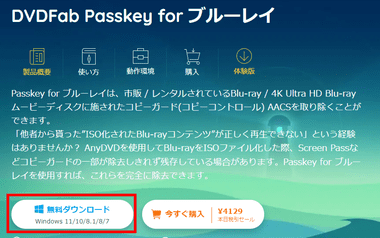 Click the "Free Download" button on the download page.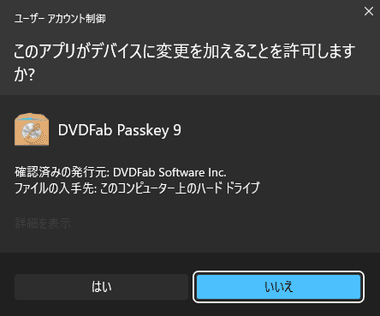 Launch the downloaded installer, and when the User Account Control dialog is displayed, click "Yes" to allow it.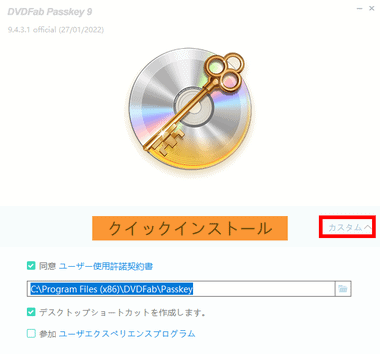 Setup Wizard Custom Click to select the installation destination or create a shortcut to the desktop.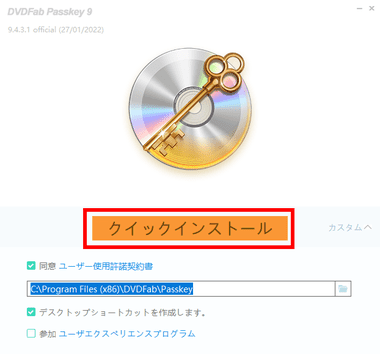 The setting items are Custom Since it is only the part of, click "Quick Install" in the center after setting.
Click "Start Now" when the installation is complete.

A progress bar appears above the system tray.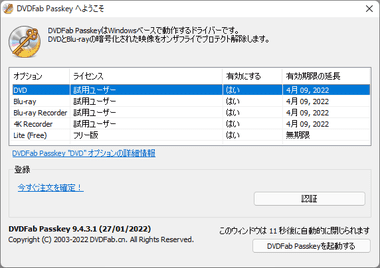 The welcome screen closes automatically, but if you don't need to display it Do not redisplay Check the box and click "Launch DVDFab PassKey".

In the case of the trial version, a dialog will be displayed. Click "Continue" to enable DVDFab Passkey.
How to use DVDFab PassKey
DVDFab PassKey is a device driver that connects software and hardware, so Effectiveness If it is set to, no operation is required.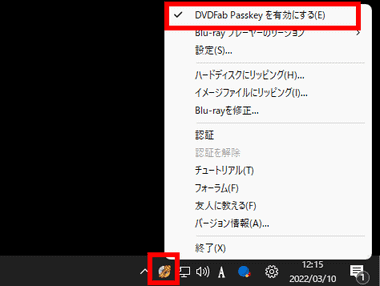 The DVDFab PassKey menu is accessed by opening the context menu (right-click menu) from the icon in the system tray.

When a copy-protected disc is inserted in the DVD / Blu-ray drive, DVDFab PassKey will automatically start decrypting and the progress bar will close when finished.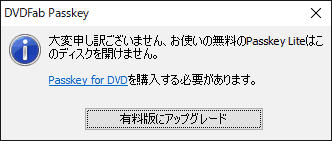 DVDFab Passkey Lite If you cannot remove the protection due to the function limitation of Your free Passkey Lite will not be able to open this disc. Message appears.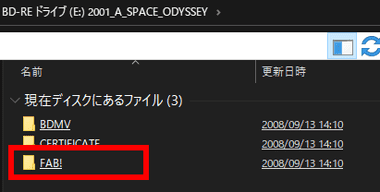 When you open the decrypted disc FAB! A folder is created and can be treated as media without copy protection.
Media player
Ripping software
Ripping
DVDFab PassKey is an unprotected driver, but it implements ripping to DVD / Blu-ray folders and ISO image files.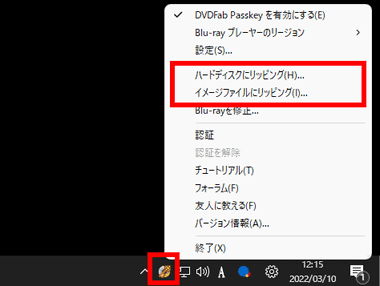 When ripping, after the analysis of the disk is completed, from the context menu Rip to hard disk Or Rip to image file choose.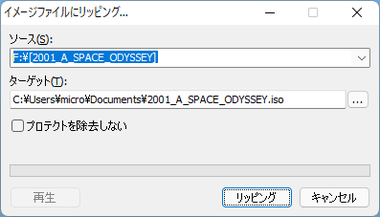 targetSpecify the save destination in and click "Rip" to start the process.
Release CPRM (Passkey for DVD)
DVDFab PassKey for DVD The CPRM It also has a function to release the video file, so you can easily extract the video file from the DVD on which the terrestrial digital broadcasting is copied.
Open the DVD that copied the terrestrial digital broadcasting,VR_MOVIE.VRO A video file in which is recorded.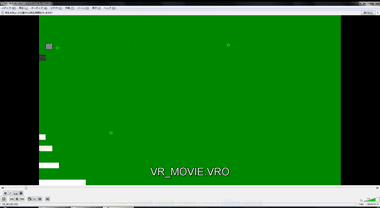 Playback images are crushed in green or gray when played on a device that does not support CPRM, such as a personal computer.
When DVDFab PassKey for DVD is resident and enabled VR_MOVIE.VRO Becomes playable.
On a DVD disc VR_MOVIE.VRO To the desktop etc. and change the file extension .VRO から . Mpg If you change it to, you can use it as a versatile MPEG2 file.
UHD Blu-ray playback (Passkey for BD)
DVDFab PassKey for Blu-ray UHD Friendly drive By using, even on a PC that does not meet the playback environment UHD BD Will be able to watch.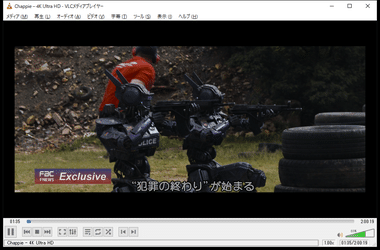 As long as you use a supported drive, it works just like a DVD or Blu-ray, and once the analysis is complete, you can play it on a media player such as VLC or MPC.
North American Blu-ray Playback (Passkey for BD)
The cheap North American version of Blu-ray found on Amazon often cannot be played on general Blu-ray players sold in Japan.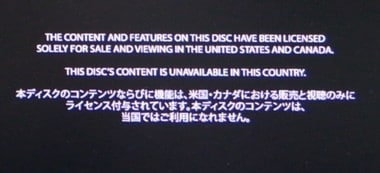 With media players such as Power DVD that can play Blu-ray even on a computer The contents and features of this disc are licensed for sale and viewing only in the United States and Canada.The contents of this disc cannot be used in this country. Is displayed and cannot be played.
Redfox AnyDVD HD Even if is enabled, a region code warning will appear and playback will not be possible.
DVDFab Passkey for Blu-ray can play North American Blu-ray without any problem.HandBrake It is also possible to rip with.
Blu-ray Players Region (Passkey for BD)
Blu-ray Players Region Is an additional feature implemented by DVDFab PassKey.power dvd , WinDVD You can reset the region code of a paid media player to make it multi-region.
Blu-ray region code
Normally, BD cannot be played unless the media and player region codes match.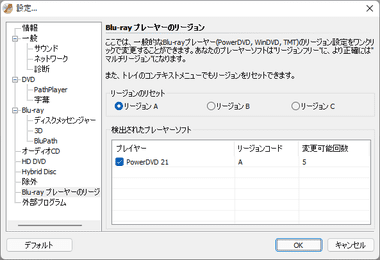 From the context menu of DVDFab PassKey Blu-ray player region Of Advanced Setting You can see the detected player name and the reset region.
Error
An error may occur due to an illegal operation or failure to release protection.

When an error occurs Bug report Dialog box is displayed, and when you click "Send", the information when the error occurred is sent.
DVDFab PassKey purchase procedure
DVDFab PassKey has a non-expiring license and can be permanently updated Indefinite edition And the license has an expiration date Subscription version Is provided and the subscription version will be automatically renewed Cancellation procedureIf you do not, you will be billed regularly.
DVDFab PassKey for DVD purchase page
DVDFab PassKey for Blu-ray purchase page
DVDFab PassKey for 4K Recorder purchase page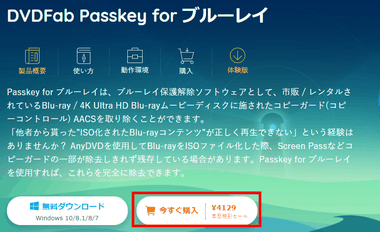 To purchase a license, go to "Buy Now" on the product page.

If you want to use both DVD and BD, we recommend the indefinite version of the bundle sale.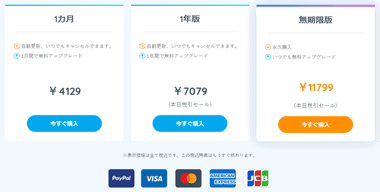 Click "Buy Now" for the plan you want to purchase, proceed to the purchase procedure, register as a DVDFab member after making a payment with a credit card or Bitcoin, and activate the product with the registered email address and password.
Latest sale information and purchasing method ・ Cancellation of subscriptionSee the page below
Account verification
Online account verification was introduced in version 2019. 10, which was updated on October 18, 9.
Expand the context menu from the DVDFab PassKey icon in the system tray Authentication choose.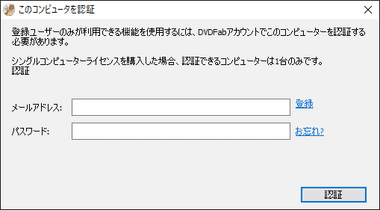 Enter the account information registered when purchasing the DVDFab PassKey license and click "Authenticate".
Related article