Security software with a reputation for performance and high detection rate
ESET Internet Security Is a security vendor in Slovakia ESET Analyzes malware behavior with security software developed by Heuristic technology It is now possible to detect even unknown malware, and in Japan Canon IT Solutions sells and supports the Japanese version as a distributor.
Heuristics Get a solution close to the correct answer at a certain level By method, ESET Program code-emulator-Generic signature Analyze with three factors to detect suspicious programs that resemble malware.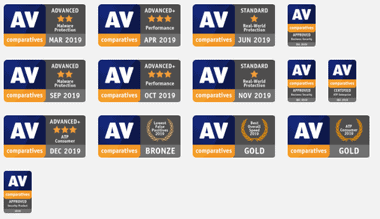 AV Comparatives Award – ESET Page
AV TEST – ESET Home User Products
ESET is an old product NOD32 antivirus Has a reputation for performance and high detection rate since then, and is a high-ranking regular in independent test laboratories such as AV-Comparatives and AV TEST.
System requirements
Version 15. 2 Currently
OS: Windows 7 SP1/8/10/11
RAM: 1 GB or more (Windows 10 (64bit): 2 GB / Windows 11: 4 GB)
HDD: 320 MB or more free space (1 GB or more recommended)
Where to get the software
ESET Security trial download page
Install ESET Internet Security
If security software other than Microsoft Defender is installed, uninstall it in advance and install ESET Internet Security after restarting the PC.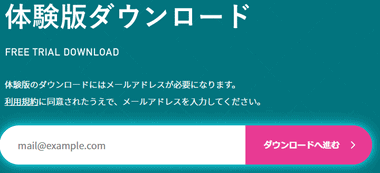 Scroll down the download page Trial download Enter your e-mail address and click "Proceed to download".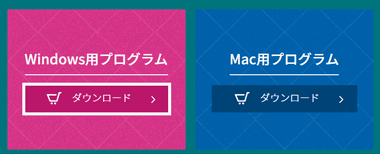 Download the installer by clicking Download under Programs for Windows.
Launch the downloaded installer, and when the User Account Control dialog is displayed, click "Yes" to allow it.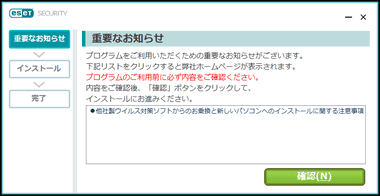 The setup wizard will start, so click "Confirm".
The installation program will be downloaded automatically, so click "Continue".
ESET Live Grid -Detection of potentially unwanted applications , and if there is no problem with the license agreement and privacy policy, click "Continue".
ESET Live Grid
A tool is available to assess the risk of running processes with up-to-date protection based on the data collected in ESET, and when enabled, statistics on viruses and suspected files detected on your PC will be anonymous to ESET. Will be sent (a confirmation message will be displayed when sending).
Detection of potentially unwanted applications
Criteria for heuristic functions will be stricter, and non-malware gray programs that are close to white will be detected.
ESET HOME (formerly my ESET ), so use your Google/Apple account or create an ESET account.
ESET HOME Is ESET license management and Anti-theft It is required for operations such as (a tool that can remotely control the device when the device is stolen).
Trial license Click
Enter your email address and click "Activate".
Activate the license with "Continue".
When the installation is completed, click "Finish".
ESET Internet Security starts Security tool The setting screen of is displayed, so close it with "X" on the upper right.
After installation, the update and initial check are automatically performed, so no operation is required.
Initial setting
ESET Internet Security is a default setting that balances protection and performance, so you rarely need to change it.
The basic setting is on the left sidebar Configuration , and the Search Engine and Scanning Profile settings can be found at Configurationat the bottom of the menu Advanced Setting Done in.
Detection engine
Detection engine is the cornerstone of PC protection Real-time protection Settings for the Scan Engine used by .
For the scan engine Malware-Unwanted apps-Suspicious app-Apps that may not be safeXNUMX types Maximum ~ off Detect with XNUMX thresholds.
Malware
Programs containing malicious code such as computer viruses
Potentially Unwanted Applications ( PUA )
Gray zone apps that are not as threatening as malware, such as adware, bundleware, cryptocurrency miners, and browser toolbars.
Potentially Suspicious Applications
Compressed files used to impersonate malware such as Zip files.
Applications that may not be secure
Remote access tools, password analysis, key loggers, etc. Programs that can be abused, and default to off , so if you want more protection, Minimum or M Change to.
Maximum:
The detection sensitivity increases and many objects are detected, but false positives (false positives) also increase.
Standard: Standard:
Set by default to balance detection rate and false positive rate.
Minimum:
Only detect objects that are definitely considered threats.
Off:
Disable protection.
Inspection profile
The profile used in the scan is by default Smart inspection-Inspecting the context menu-Detailed inspection-Computer inspection And the parameters are ThreatSense engine parameters It is set in.
Check and edit the inspection profile on the left sidebar Malware inspection で Selected profile After selecting a profile from the list of THREAT SENSE parameter Is expanded and performed.
by scanning Detected threats are auto-deleted by default threats are removed without user intervention.
Extermination level Of Correct the detection Means automatic deletion, Correct the detection if it is safe.If not, check.Is a generally recommended setting, but users who can judge the danger of files can judge the danger of files because adware and free software including browser hijackers are deleted when downloading the installer. Always check with the end user change to.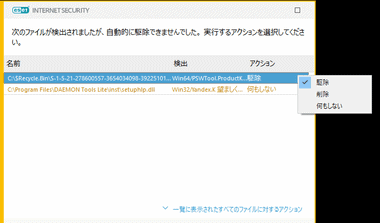 Always check with the end user If you change to, you will be required to make a decision on the processing of the detected threat, so for each file アクション Select any process from.
Adding a profile List of profiles Of Edit Possible from.
If you want to change the inspection target of the profile, after selecting the profile to be changed Inspection target Of Edit Open and check the inspection target.
Device control
Device control Is a feature that blocks the autoplay of removable media such as USB sticks, which is disabled by default, to protect your device from malware-infected removable media.
To enable Configuration Of Computer protection .
Device control To enable.
Device control If is enabled, ESET Internet Security will block and ask for processing when the removable media is set. Immediate inspection Run a scan with.
How to use ESET Internet Security
The main features of ESET Internet Security are PC protection from threats-Network protection-Internet banking protection-PC Theft Protection and Search So, when Windows starts, it will start automatically and real-time protection will be enabled, so no operation is necessary unless a problem occurs.
The first time you start ESET Internet Security Computer inspection Is executed, but just in case after installation Custom inspectionIt is recommended to perform the inspection for all local drives.
Computer inspection and detailed inspection
ESET Internet Security runs with one click Computer inspection In addition to this, you can specify the inspection target and inspection profile and execute it. Detailed inspection There is.
Computer inspection
All files on your local drive will be inspected and automatically detected if a threat is detected. Extermination levelIt is automatically deleted or removed based on the setting value of.
On the left sidebar Computer inspection から Computer inspection Run with.
Computer inspection Runs on Smart inspection The System memory-Boot sector-Self-extracting archive-Compressed executable Objects with a high possibility of lurking threats are targeted for inspection, and general files such as Excel and PDF are excluded from inspection.
Detailed inspection
Detailed inspection You can select the parameters of the inspection content and the scan target. Custom inspection , scan removable disks such as USB and CD/DVD Removable disk inspectionThere is.
Custom inspection
Computer inspection It is possible to inspect general files, local drives, network drives, etc. that are excluded from the target.
On the left sidebar Computer inspection It is in Detailed inspection Of Custom inspection choose.
The top right Configuration With an icon Target of inspection Select what you want to scan from the list of.
Inspection profile Select the profile to use from.
Smart inspection :
Scan objects that are likely to be threatened.
Inspecting the context menu :
Scans focused on files, excluding memory and boot sectors.
Detailed inspection :
Executes a scan that includes general files in addition to the scan items of smart inspection.
Computer inspection :
General files are excluded from "Detailed Inspection" and "Smart Optimization" is enabled to ensure an efficient scan level.
After setting the scan, execute "Inspection".
Inspected as an administrator Is used when the currently logged-in user does not have permission to access the file to be inspected and can call User Account Control as an administrator.
Network inspection
Network inspectionIs a feature that monitors your local network to block unauthorized communication or detect vulnerabilities in your network, and ESET Internet Security firewalls block communication when traffic anomalies are detected.
Home network protection From home to check Network inspection on the left sidebar or click tool から Network inspection choose.
A list of devices connected to the network is displayed.
Newly detected devices are marked with a ★, devices with problems are marked with a warning mark or caution mark, and details can be checked by clicking on a device.
of detected devices Display name , Device type can be edited.
Blocking traffic
When adding a new device to the network or changing the IP address network If you don't see it, it's most likely blocked by ESET Internet Security.
If there is blocked traffic Information icon Is displayed.
Information icon Open the device that is displayed Blocked traffic Of display Click
A dialog will be displayed Check for blocked traffic Click
You can communicate by clicking Unblock the offending traffic to unblock it.
Dual router
Duplex routers are not recommended, so unblocking the router will detect problems every time unless you unblock the dual router.
Dual routers can be resolved by switching the added router (second router) to bridge mode (access point).
Anti-theft
Anti-Theft is remotely controlled when the device is stolen Device lock-Start the camera and shoot-Take a screenshot A module that can be executed.
To enable anti-theft ESET HOME You must be logged in to and the device must be online before you can use it.
When using Anti-Theft, in the left sidebar tool から Anti-theft choose.
ESET HOMELog in to.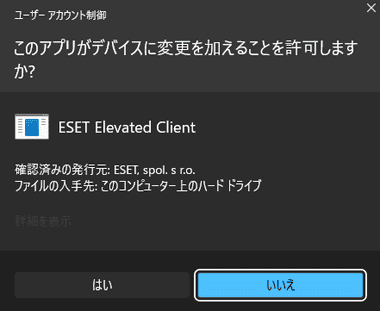 The User Account Control dialog will be displayed, so click "Yes" to allow it.
Set the device name and click "Continue".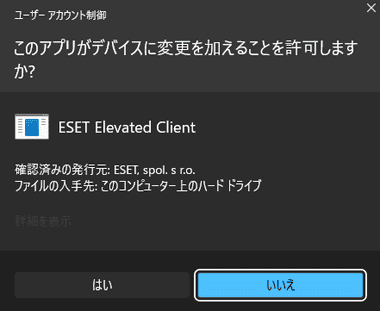 The User Account Control dialog will be displayed, so click "Yes" to allow it.
Click "Complete settings with ESET HOME" to open a browser ESET HOME Is displayed.
Click the displayed device to display the status.
It is recommended to create a fictitious account, so create it arbitrarily.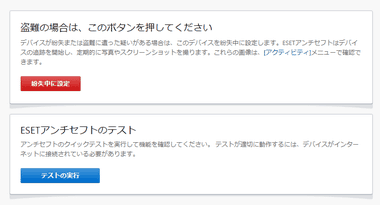 On the left sidebar status Select and click Run Test to see if Anti-Theft works properly.
After the test ESET Anti-Theft Test-Results When the location information and screenshots are displayed, the setting is complete.
In case of theft status On the screen Set during loss Click to start monitoring. (The monitoring period is 14 days for him).
License purchase and activation
Open the purchase page from ESET Internet Security and purchase a license.
Click "Purchase License" on the home screen.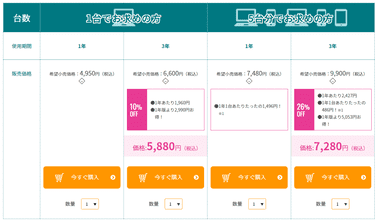 Select a plan and click "Buy Now".

Enter the email address you registered when you downloaded the trial version and click "Proceed to enter customer information".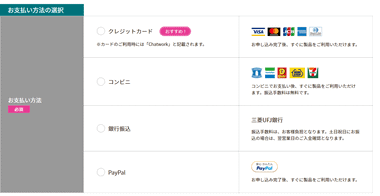 Enter the necessary information such as payment method and make a payment.
the e-mail is Thank you for ordering-Thank you for payment-To customers who have purchasedWill be sent XNUMX times and will arrive at the end To customers who have purchasedTo email Product authentication keyIs listed.
Click "Activate Product" from ESET Internet Security Home.
Use the purchased product authorization key Click
Enter the product verification key provided in the email and click "Continue".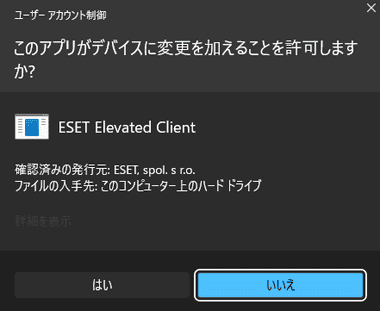 When the User Account Control dialog is displayed, click "Yes" to allow.
Click "Activation".
Upgrade to the regular version is complete.
License renewal and change
If you continue to use ESET Internet Security after your license expires,NEW と Change There are two ways.
ESET Internet Security license NEW と new purchase There is no big difference, and you can renew your license with a new purchase without reinstalling ESET Internet Security.
License renewal (extension)
License renewal is provided by Canon IT Solutions CLUB ESET It is possible only with, and the license can be automatically renewed by pre-procedure.
CLUB ESET To log in to License ID Because it is necessary Help and support Confirm with.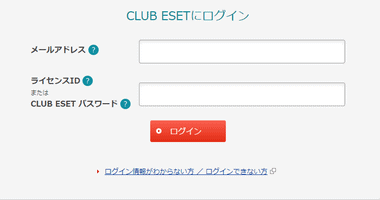 CLUB ESET Go to and enter the email address and license ID you registered when you installed ESET Internet Security to log in.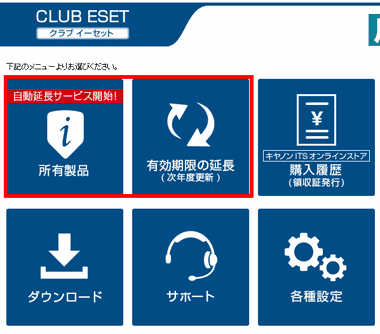 If you want to automatically renew the license expiration date Owned product , If you want to extend (renew) your current license Extension of expiration date Click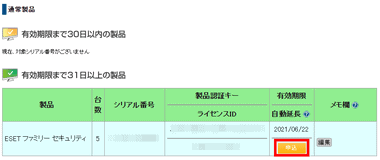 Click "Apply" for the product to be automatically renewed to extend the procedure.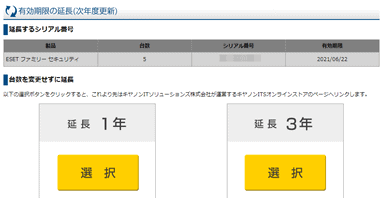 Extension of expiration date Then. 1 year と 3 year Can be selected.
License change
To change the license, purchase ESET Internet Security newly and update the license period of ESET Internet Security in use.
After purchasing the license, ESET Internet Security Help and support から License change Click
Use the purchased product authorization key Select and enter the product authorization key to activate.
Related article
Russia's long-established security vendor Kaspersky's free virus software Kaspersky Security Cloud Free is a comprehensive […] developed by Russian security vendor AO Kaspersky Lab.