Audio encoder that can convert file format in 3 steps
Freemake Audio Converter Is in the United States Mixbyte Inc The audio file encoder provided by the company can convert major audio and video files to MP3, WMA, WAV, FLAC, AAC, M4A, OGG.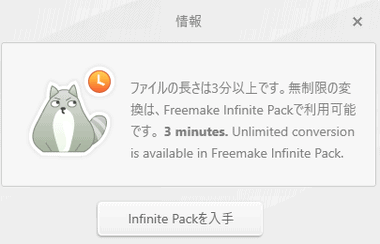 Freemake.com The operating company of the Republic of Seychelles Ellora Assets Corporation At that time, adware that can be opt-out was bundled with the installer. It was a normal specification for free software at that time, but it is operated in the UK. DigitalWave Ltd Since then, adware that cannot be opted out has been introduced in the program itself, security software has blocked installation as PUA / PUP, application restrictions have increased to encourage the purchase of paid options, and subscriptions have been suspended. Due to problems such as the method being difficult to understand, the evaluation was greatly lowered.
Now from DigitalWave in the US Mixbyte Inc The program added by DigitalWave has also been removed, but the functions that can be used for free are greatly limited.
System requirements
Version 1 Currently
OS: Windows Vista / 7/8/10/11
CPU: Intel / AMD 1GHz and above
RAM: 256 MB or more
Storage: 25 MB or more free space
.NET Framework: 4.5 or later
Where to get the software
Freemake Audio Converter Official Download Page
Install Freemake Audio Converter
Freemake Audio Converter is installed in the setup wizard format and does not include adware or spyware, but it is recommended to isolate it with AdwCleaner because "ProductUpdater" runs automatically in the background.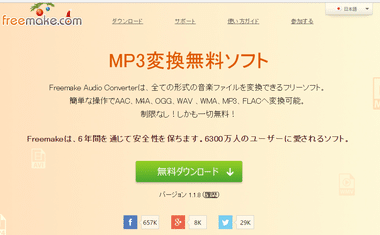 Click "Free Download" on the download page to download the installer.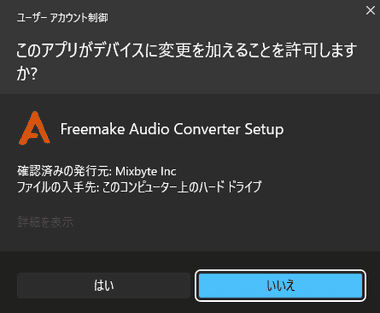 Launch the downloaded installer, and when the User Account Control dialog is displayed, click "Yes" to allow it.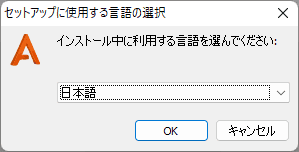 Language selection Japanese Then "OK".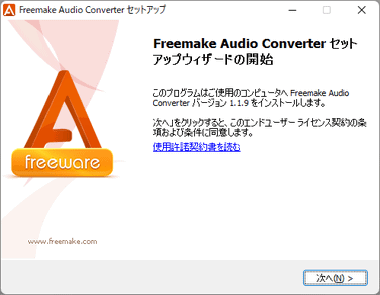 The setup wizard will open. If there are no problems with the license agreement, click "Next".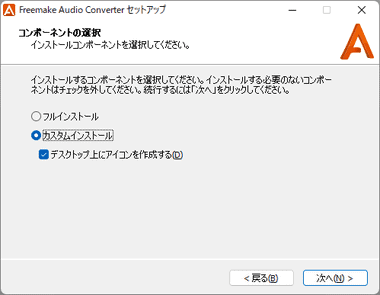 Custom installation Select "Next".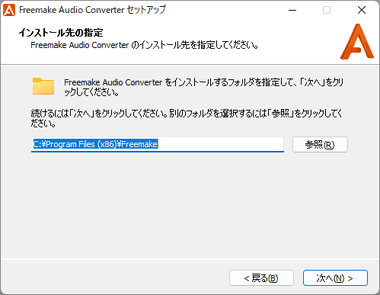 If you are not particular about the installation destination, click "Next" with the default settings.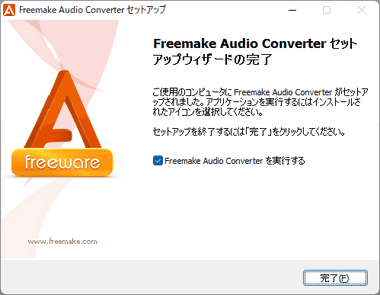 Setup is completed with "Complete".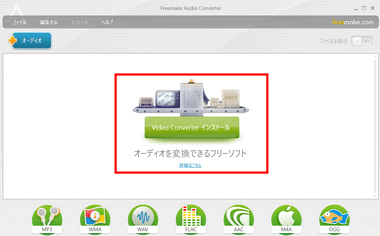 Displayed in the center of the home are other Freemake products that are not related to Audio Converter.Click to install the app automatically.
Run AdwCleaner
After installation AdwCleaner When you run PUP.Optional.FreeMakeConverter Quarantine because it detects.
AdwCleaner is a stand-alone security app developed by the American security vendor Malwarebytes, which is an essential security tool for using free software. AdwCleaner […]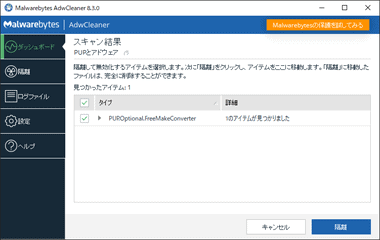 Detected PUP.Optional.FreeMakeConverter Is a registry that runs ProductUpdater.exe in the C: \ Program Files (x86) \ Common Files \ Freemake Shared folder, which automatically starts when Windows starts and runs in the background.
Remove Freemake Improver
When you install the Freemake application FreemakeUtilsService.exe Automatically start Freemake Improver Windows serviceIt is registered in and remains in the service even after uninstalling, so it is deleted at the time of installation.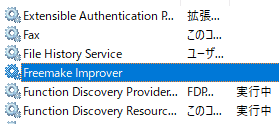 スタート From the context menu (right-click menu) Computer management Select andServices and applications Of Services OpenFreemake Improver Confirm that is registered.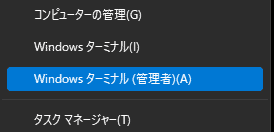 スタート From the context menu of Windows terminal (administrator)choose.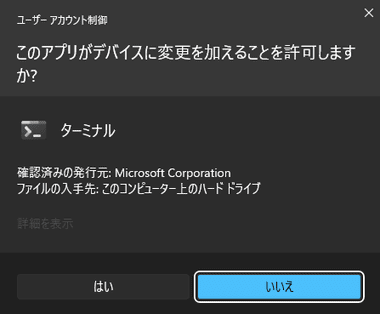 When the User Account Control dialog is displayed, click "Yes" to allow.

To the terminal that started sc.exe delete "Freemake Improver" Enter Enter Key.
How to use Freemake Audio Converter
Freemake Audio Converter has a profile so you can convert files in XNUMX steps.
File format that can be output
MP3, WMA, WAV, FLAC, AAC, M4A, OGG
Readable audio file
mp3, aac, ogg, wma, wav, flac, m4a, m4r, amr, au, aif, aiff, aifc, ac3, adts, alaw, apc, ape, caf, dts, gsd, gsm, mka, mlp, mmf, mp1, mp2, mpeg3, mpc, mp +, m2a, nut, oma, qcp, ra, rmj, shn, tta, voc, w64, wv, xa
Readable video file
avi, mp4, wmv, mkv, dvd, mpg, 3gp, flv, swf, tod, mts, mov, m4v, rm, qt, ts etc.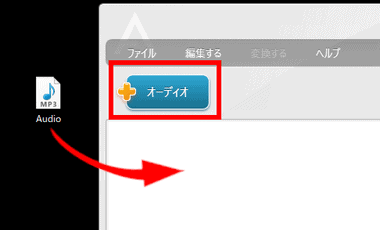 Drag the file to be converted to Freemake Audio Converter or specify the file from "+ Audio".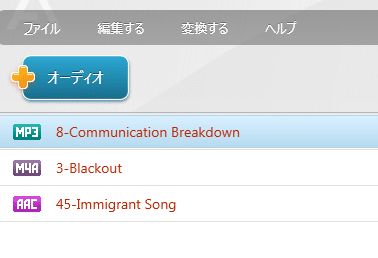 The file format of the imported file is displayed.

Select the file format to convert after importing the file.
MP3 : Bitrate mode is constant (CBR)
AAC/M4A : Bit rate mode is variable (VBR)
WMA : Bitrate mode is constant (CBR)
FLAC : Lossless format
Ogg : Bit rate mode is variable (VBR)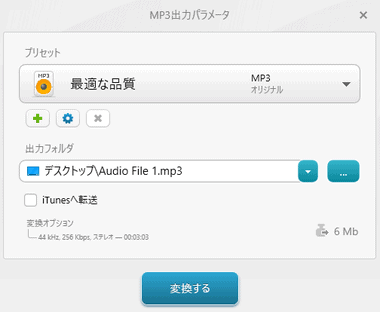 Since the parameter window opens, set the output destination etc. and click "Convert" to execute the encoding.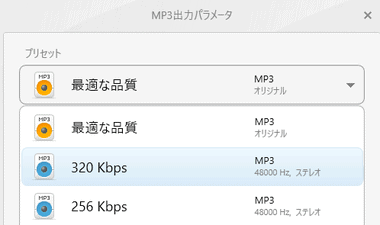 Default for presets Optimal quality In addition to the 320kbps ~ 96kbps There are up to two options available.
Optimal quality Is monaural, stereo, etc. Channel と Sample rate Is the same as the original,bit rateIs set to 320kbps only if the original is 320kbps, and 320kbps if it is 256kbps or less and 256kbps or more.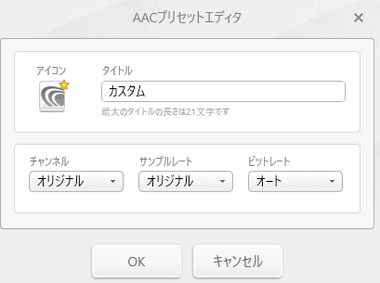 preset Below Configuration From the icon Channel-Sample rate-bit rate Can be set individually.
Combine files
It is also possible to output multiple different formats of audio files together.

In the upper right Combine files To "ON".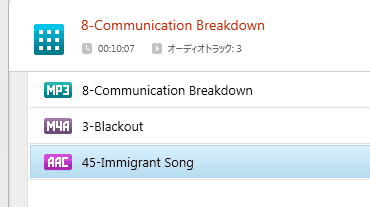 If the display is nested and the conversion is executed after selecting the file format to be converted, it will be output as one file.
How to upgrade to a paid plan and unsubscribe
The Freemake site doesn't have a paid plan page or a login page to manage your subscription, just the support page tells you how to unsubscribe.The method of suspending the subscription differs depending on whether the agency at the time of payment is FastSpring or Mixbyte Inc..
Freemake subscription cancellation method page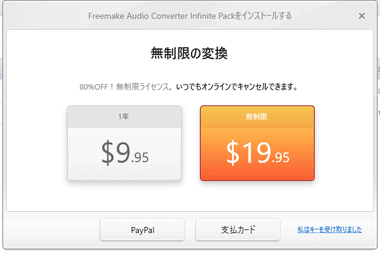 Upgrade is from the top menu HELP You can choose from1 year subscriptionAnd buy out Permanent version There is.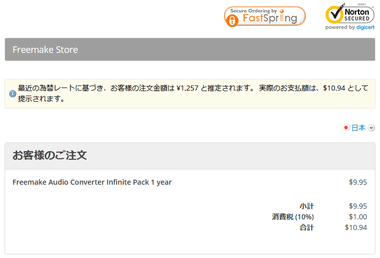 The payment agent is based in California, USA Fast Spring .

Founded in 1998, PayPal, a pioneer of Fintech, is an online payment agency service originating in the United States and has a solid support system. ]
Related article
Easy-to-use encoder with support for major video file formats DVDFab 12 Video Converter is developed by Chinese software vendor DVDFab Software (formerly Fengtao Software) […]