A free e-book platform that allows you to upload up to 1000 ePUB/PDF personal files
Google Play Books Is an ebook platform developed by Google for up to 1000 ePUB / PDF personal documents. Play books You can save it to your online storage, view the uploaded file with the mobile app, and use it on your computer. Adobe Digital Editions You can use to download the file and view it offline.
System requirements
There are no system requirements for accessing with a web browser.
Where to get the software
on Google Play Books & Manga Of LibraryTo access.

Google Play Books is a free e-book app that allows you to upload up to 1000 ePUB/PDF personal files. Google Play Books is an e-book reader developed by Google.
How to use Google Play Books
in the web version Library You can browse books registered in , without downloading, and you can select multiple books and upload them all at once.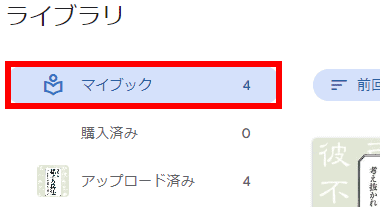 Content and personal documents purchased from the Play Store can be found in the left sidebar. My book Access from.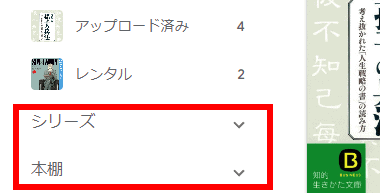 My book The Series と Bookshelf You can organize your books with .
Series
All series purchased from the Play Store are displayed together.
Bookshelf
View user-created bookshelves.
Rented books cannot be deleted even if they expire.

row of books last read date-著者-title You can choose from.

In addition to extracting books and comics, read/unread, rental/upload, etc., you can also search from the search icon .
Bookshelf
Bookshelf The Create New You can add it freely with, and the created shelf is displayed at the top.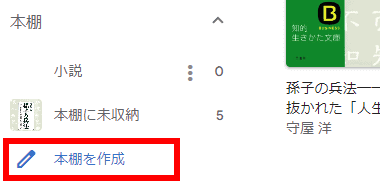 Click on the left sidebar to create a bookshelf. Bookshelf Unfold create bookshelf You can add it with , and the created shelf is displayed at the top.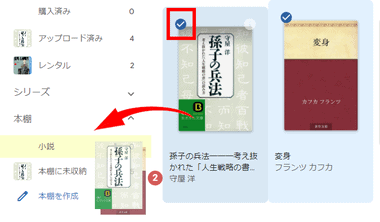 To move to a bookshelf, check the check box displayed by mouse over in the title and drag it to the bookshelf on the left sidebar, or specify the move destination with "Edit bookshelf" displayed at the top.
Viewer
The online display has a responsive design and isYou can adjust the one-page display and spread by changing the width of the browser.However, usability is poor compared to viewers of other e-book sites, such as page turning is not unified between books and manga, and page turning by clicking is not supported.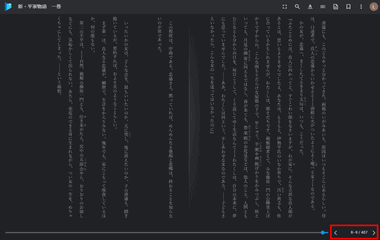 Page feed is displayed on the scroll button of the mouse, the left and right arrow keys on the keyboard, and the lower right. Next / Prev Click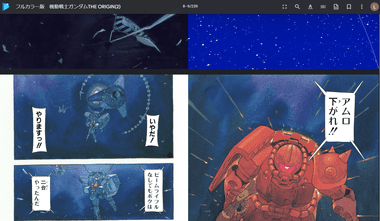 Manga purchased on Google Play will scroll vertically.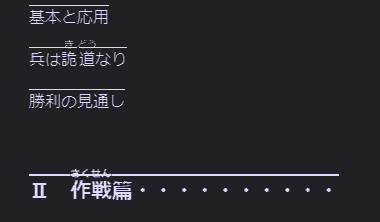 The Google Play Books viewer is optimized for viewing content purchased from the Play Store, so you can read other ebooks. Caliber , epubor Files converted to .ePUB by, for example, do not display the vertical layout correctly, and are difficult to use, such as page breaks and imbalanced margins.
Upload
Files that can be uploaded to Google Play Books EPUB と PDF Only in format, files such as Word and Excel are rejected by the server side when uploaded, and other e-books and archive files such as Zip / AZW3 cannot be viewed due to an error after uploading.

To upload personal documents Upload file Click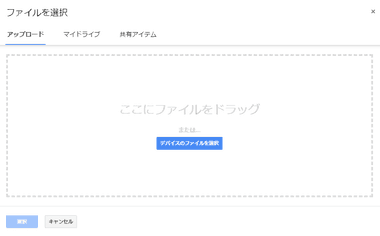 A window for uploading will open, so drag a file or folder to add it.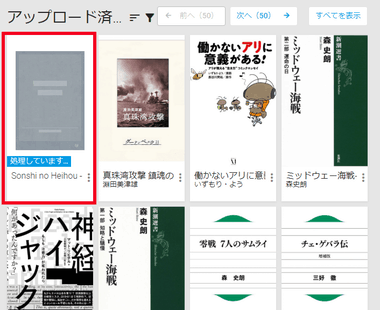 The added file is processed with metadata and the cover and title are displayed.
Delete uploaded file
Uploaded files can be deleted individually or in bulk.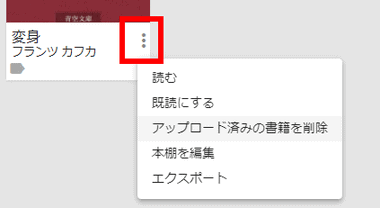 Individual deletion of books Cover Expand the menu from the 3-point reader displayed at the bottom right of Delete uploaded books choose.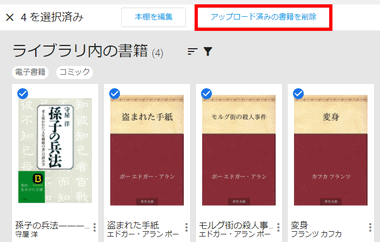 To delete all at once, select a book and then click "Delete uploaded books" displayed at the top.
Download/Export
To view the contents of the library offlineAdobe Digital Editions Requires installation.
Adobe Digital Editions download page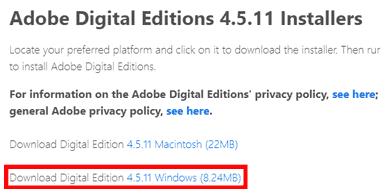 Download the Adobe Digital Editions installer from the download page and install it on your computer.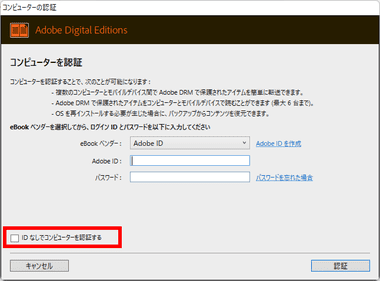 Because the authentication of the personal computer to be used is required,HELP Of Authenticate computer Use your Adobe ID orAuthenticate computer without ID Check the box and click "Authentication".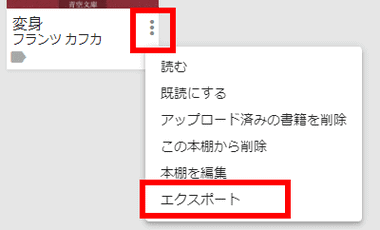 From the 3-point reader of books on Google Play Books & Manga export choose.

For protected titles, a dialog will be displayed. Export in ACSM format (for EPUB) Click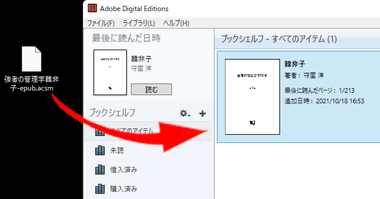 downloaded ACSM Drop the file into Adobe Digital Editions or in the menu bar File It is in Add to library If you import it with, you can download and browse the e-book.
Google Play Books & Manga DRM
Google Play Books & Manga E-books purchased at Adobe Digital Editions Install on your computer,epubor You can unprotect books by usingKinoppy It can be viewed with an e-book reader such as.

Epubor All DRM Removal, a DRM removal app for Kindle / Kobo and ACSM ebooks, was developed by Chinese software vendor Wuhan JinDu Technology Ltd. […]
Titles that cannot be exported, such as comics, Firefox 's Responsive Design Mode allows you to take beautiful screenshots.
Related article

Kinoppy for Windows, an e-book app that allows you to synchronize and share libraries between devices, is an e-book reader developed by domestic software vendor INFOCITY and released by Kinokuniya Bookstore.