Free virus software from Russia's long-established security vendor Kaspersky
Kaspersky Security Cloud Free Is a Russian security vendor AO Kaspersky Lab Comprehensive security software developed by Kaspersky Security With a limited edition of Kaspersky Security Antivirus function Can only be used.
Kaspersky released the first free antivirus software Kaspersky Free in July 2017, which was originally planned to be rolled out worldwide in a few months, but Japan was excluded from the target countries and the Japanese version of Kaspersky Security Cloud Free Has not been released.
Kaspersky Lab's antivirus software has an excellent virus detection rate,AV-Comparatives , AV TEST So it is always ranked high.
System requirements
Version 21 Currently
OS: Windows 7 (SP1)/ 8/ 10/ 11
CPU: 1 GHz or higher
RAM: 1 GB or more (32bit) / 2 GB or more (64bit)
Storage: 1.5 GB or more free space
Where to get the software
Kaspersky Official Website Download Page
Install Kaspersky Security Cloud Free
To use Kaspersky Security Cloud Free, you need to register your email address and password, and protect your Internet connection via Wi-Fi in addition to antivirus software. Kaspersky Secure Connection are installed at the same time.

Click "DOWNLOAD NOW" on the download page.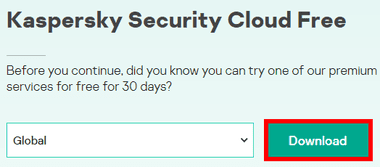 Japanese is not supported Overseas hubs Select "Download".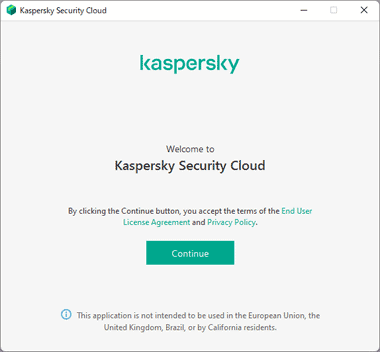 Start the downloaded installer, and if there is no problem with the license agreement and privacy policy, click "Continue".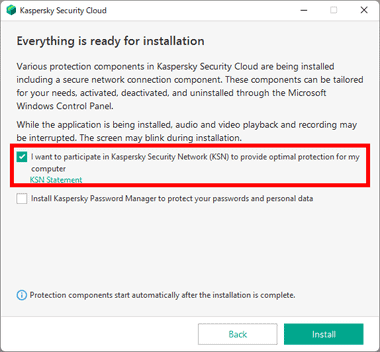 I want to participate in Kaspersky Security Network (KSN) to provide optimal protection for my computer Enable "Install".
KSN (Kaspersky Security Network) enables cloud protection provided by Kaspersky, which provides information about websites and applications faster than app updates, but Kaspersky Security Cloud usage and detected malware threats. Information, computer hardware information such as OS, etc. are sent to Kaspersky.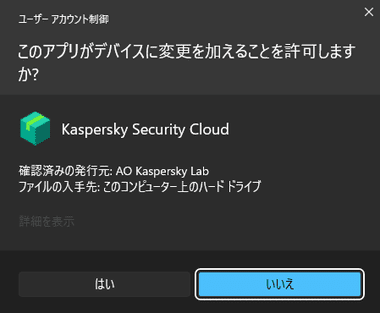 When the User Account Control dialog is displayed, click "Yes" to allow.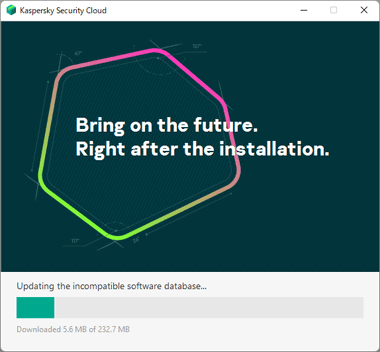 The program download and installation starts.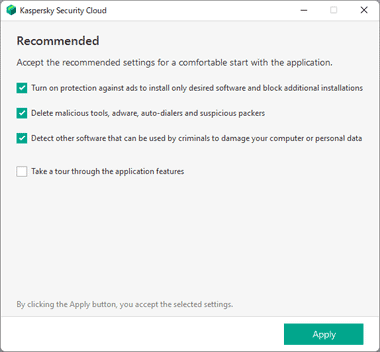 Enable all recommended settings except "View Tour" and click "Apply".
· Enable protection that blocks the display of ads and additional installations and installs only the software you need
· Remove malicious tools, adware, auto dialers and suspicious compressed files
· Detect software that can be abused by criminals to damage your computer or personal data
・ See function introduction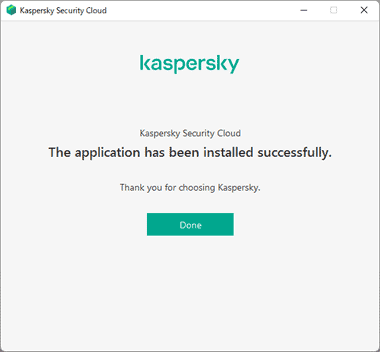 Installation is completed with "Done".
Create an account
When the installation is complete My Kaspersky You will be asked to log in to, so create an account if you haven't already.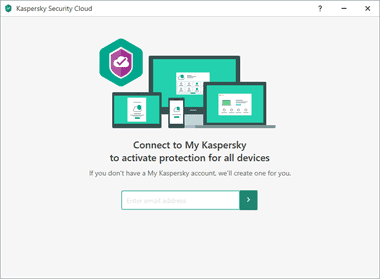 Enter the email address to register.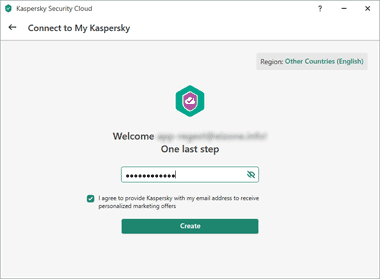 Set a password and click "Create".
The password must be set to at least 1 characters, including one or more numbers, with no mixed case spaces.
"Continue" to watch the tour after registering for an account, if not needed Skip .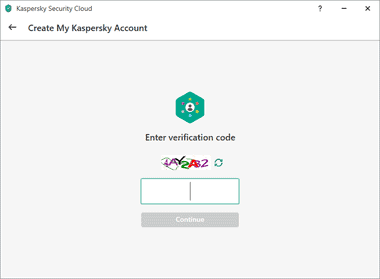 Enter the confirmation code displayed.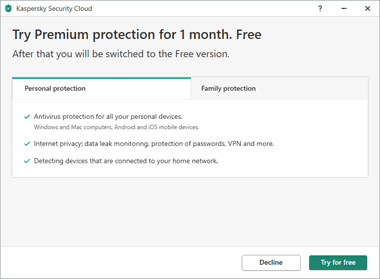 1 month paid Kaspersky Security Cloud Personal Is fully functional, so try "Try for free" if you want to try it out, or "Deceline" if you don't want to try it out.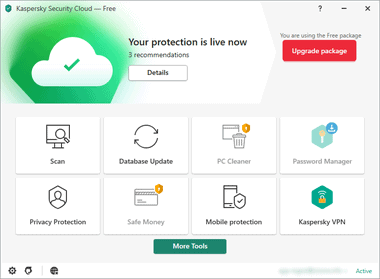 Kaspersky Security Cloud starts and the home screen is displayed.
My Kaspersky
Created account My Kaspersky Register with.
My Kasprsky You can check the registered device and download Kaspersky Security Cloud, but there is no particular operation on the management screen.

A confirmation email will be sent to the email address registered with your account, so click "Verify email" in the text.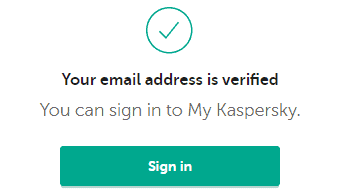 "Sign in" when your email address is verified.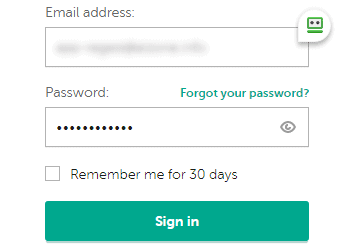 Enter the registered login information and click "Sign in".

If there is no problem with the terms of use, check the check box and click "Continue".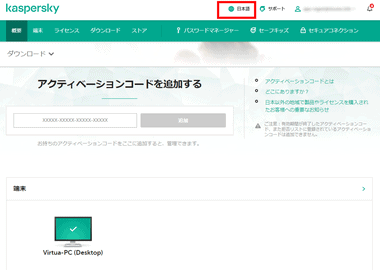 The management screen of My Kasprsky is displayed.

Kaspersky Security Cloud is a one-year subscription Free subscription Is enabled so you don't need to renew your license.
Initial setting
All items available in the free version Effectiveness It is set to , so you don't need to make any settings related to protection.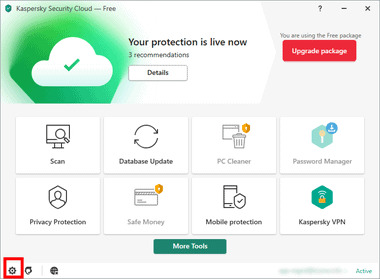 At the bottom left of the home screen Configuration Click the icon.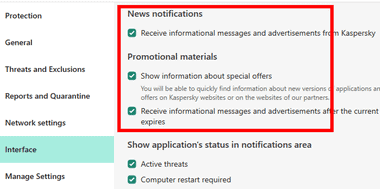 On the left sidebar Interface から News notifications と promotional materials Disable the item.
Receive informational messages and advertisements from Kaspersky
Receive deals and news from Kaspersky Lab
Show information about special offers
View information about benefits
Receive infomational messages and advertisements after the current license expires
Receive announcements and ads even after the end of your current license
How to handle threats
Kaspersky Security Cloud against detected threats Automatically perform recommended actions Is the default setting, and malicious tools, adware, auto dialers, and suspicious compressed files are automatically deleted.

When installing free software that includes adware that has been discontinued Delete malicious tools, adware, auto-dailers, and suspicious packagers Is enabled, the installer will be automatically removed, so Configuration Of General It is in Chế độ chế độ Disable this function with.
Recommendations
You can check the current status and recommendations in "Detalis" on the home screen.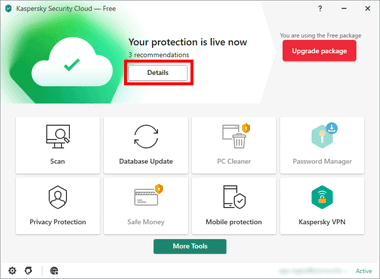 Click "Detalis".
Firefox Is installed in the environmentRecommendations The item about the browser extension is displayed in, but the function is the paid version private Browsing と Anti-Banner If is not enabled, it will not work even if installed.
How to use Kaspersky Security Cloud Free
The free version is available for constant protection from viruses / Trojan horses / ransomware / spyware / cryptocurrency mining and other malware. Real-time protection And manually inspect your PC scan .
Items to be protected and effective protection functions
File Anti-Virus – File Protection
Open, save and scan all executed files

Web Anti-Virus-Web protection
Scan incoming web traffic to prevent dangerous scripts from running
Mail Anti-Virus-Mail Protection
Scan sent and received emails for dangerous objects
Network Attack Blocker – Network Attack Defense
Protection from dangerous network operations and attacks
AMSI Protection – Antimalware Scan Interface
API that allows third-party apps implemented from Windows 10 to perform virus scanning
System Watcher – System Watcher
Protects against ransomware, crypto lockers, etc. and rolls back system changes due to malicious program manipulation
Kaspersky Security Network – Cloud Protection
Apply the latest malware information using a cloud database
Scan
For scanning Full scan-Quick Scan-Selective Scan-Removable device scan There is.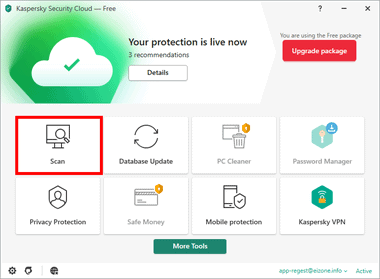 From home to run a scan Scan choose.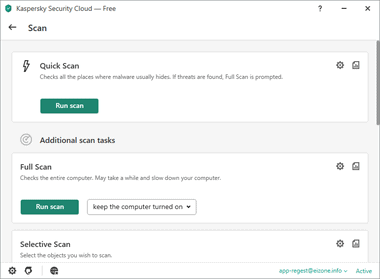 "Run scan" starts the scan.
Full Scan – Full Scan
Scans the entire computer, which slows down your PC's performance during the scan
Quick Scan – Quick Scan
Scans for objects loaded at Windows startup where malware is likely to be lurking
Selective Scan – Custom Scan
Scan files and folders such as downloaded installers and Zip files
Removable device scan – Removable device scan
Scan external devices such as USB memory
Background scan
In addition to user-performed scans, Kaspersky Security Cloud automatically runs rootkit scans against system memory and system partitions in the background on a regular basis.
Rootkits are malware that allow malicious third parties to install the tools needed to remotely access a target computer.

Kaspersky Security Cloud takes measures to prevent the performance of your PC from being degraded by scanning, so it is recommended to enable background scanning to maintain the protection level of your PC.
Detection of malware and suspicious files
Against the threats detected Automatically perform recommended actions If is disabled, manual processing is required.
When Kaspersky Security Cloud detects a threat, you will be notified and what will happen. Delete-Block-Add to exclusions 3 choices.
Delete: Delete
Block: Skip
Add to exclusions: Add to exclusions
After selecting Delete and clicking "Disinfect and restart the computer", the detected files will be deleted and the PC will restart.
Try to disinfect without computer restart Attempts to delete the detection file without restarting the PC, but depending on the type of malware, it may not be deleted until the system locks and the PC is restarted, so the basics are Disinfect and restart the computer choose.
Block Blocks Kaspersky Security Cloud detection and leaves the detected files alone.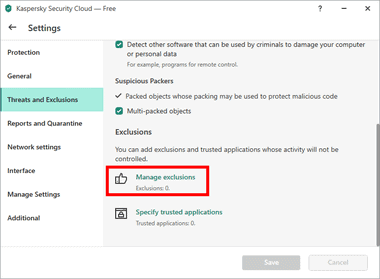 The exclusion list is Settings Of Threats and Exclusions It is in Manage exclusions Can be deleted or added from.
Related article

McAfee's security software that you can try McAfee Total Protection is a security software developed by the major security vendor McAfee LCC.