Light and easy-to-use open source free multimedia player
MediaPlayer Classic – Black Edition (MPC-BE) Alexander Vodiannikov A fork developed by (Aleksoid) that extends the capabilities of Media Player Classic – Home Cinema (MPC-HC), which supports HDR video and MPC Video Renderer, as well as ISO files not supported by MPC-HC. Can also be played.
The original Media Player Classic stopped updating in 2010 and is a derivative version Home Cinema And split from Home Cinema Black Edition Development was continued, but in July 2017 Home Cinema Announced suspension of development due to a decrease in developers.
In January 2018, Media Player Classic developer clsid1 released a fork to continue developing Home Cinema.
Light and easy-to-use open source MPC-HC fork Media Player Classic – Home Cinema (MPC-HC) is a light and easy-to-use open source free mail […]
System requirements
Version 1 Currently
OS: Windows Vista / 7/8/10/11
Where to get the software
MPC-BE installation
The MPC -BE installer does not include adware or spyware.
On the MPC-BE page Download Click to download the installer.
After selecting the downloaded Zip file, in the context menu (right-click menu) Expand all Unzip with.
Launch the installer in the unzipped folder, and when the User Account Control dialog is displayed, click "Yes" to allow it.
Language selection Japanese Then "OK".
If there is no problem with the license agreement I agree Check the box and click "Next".
If you are not particular about the installation destination, click "Next" with the default settings.
When opening a video / audio file with MPC-BE Associate with video file/ Associate with audio file To enable.
The default setting for the Start menu shortcut is "Next".
Select Create Desktop Icon and click Next.
Check the installation settings and if there are no problems, click "Install".
Setup is completed with "Complete".
Default app
Windows 10 で Associate with video file/ Associate with audio file If you enable, when setup is complete Default app The setting screen opens, soVideo player/ Audio player MPC-BE Confirm that it is.
Windows 11 Does not open the setting screen,Associate with video file/ Associate with audio file If you enable, the program selection screen will be displayed when you open the video / audio file.Prescribed appWhen setting to Always use this app to open files To enable.
Install MPC Video Renderer
If you're using a GPU that supports DirectX 10 or later, Aleksoid's high-quality rendering engine MPC Video Renderer Recommended to install.
GitHub MPC Video Renderer download page
From the download page on GitHub Latest Release Click the Zip file to download.
Unzip the downloaded Zip file.
Unzipped Mpc Video Renderer Folder Program Files In the folder MPC-BE Move to the folder.
moved Mpc Video Renderer Open the folder and if you are using 64-bit MPC-BE Install_MPCVR_64 Select from the context menu Run as administrator.
When the User Account Control dialog is displayed, click "Yes" to allow.
Command prompt opens Installation succeeded Is displayed, close the window.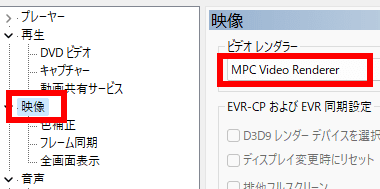 Start MPC-BE display Of Options Open and on the left sidebar Image で Video renderer The Mpc Video Renderer After changing to "OK".
For rendering ax fileIf you want to update the MPC Video Renderer, move it to the MPC-BE folder in the MpcVideoRendere folder. Overwrite MpcVideoRenderer.ax fileTo do.
Screen size during playback
The default setting of MPC-BE is to enlarge / reduce the image according to the window size.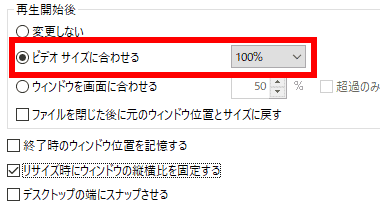 If you want to start playing in video size, go to the menu bar display から Options Open the left sidebar player Of Window size Select Fit to video size To enable.
Fixed aspect ratio
By default, the window size can be changed freely, and letterboxes (black bands) are inserted on the top, bottom, left, and right.
If you want to fix the aspect ratio when resizing the window Options から player Of Window size で Fixed window aspect ratio when resizing Check the box.
Representation setting
MPC-BE can show / hide the menu bar, control buttons, seek bar, etc. individually, and has 3 types of presets.
On the menu bar display Items that are checked in are displayed, and you can click to show / hide them.
Hide menu Select to hide the menu bar, so operate from the context menu.
Hide menu When you select み レ ー ム の み Can be selected, and if only the frame is selected Hide the border Becomes selectable.
To return to the default display Of preset から M choose.
File association and context menu display
Set during setup File associationChange Options Of player It is in 形式 Edit with.

When resetting Change Click
When the User Account Control dialog is displayed, click "Yes" to allow.
When opening a video file with MPC-BE Association で Movie Click to associate the audio file voice Click MPC-BE Default app Set to.
To disassociate Release Click
In the context menu when selecting a file supported by MPC-BE Play with MPC-BE / Add to MPC-BE playlist If you want to displayExplorer context menu Of File Check to enable it.
How to use MPC-BE
Video file association and Default appIf the setting is completed, the video will be played on MPC-BE.
MPC – BE-supported video files
AVI, MPEG, MPEG-TS, DVD-Video, Matroska, WebM, MP4, Quick Time Movie, ISO, 3GP, 3GP2, Flash Video, Ogg, Real Media, Id Software Game Video, Windows Media Player, Smacker, FLIC Animation, DirectShow Media, Raw Video, Shockwave, etc.
Playing video files
MPC-BE Default app If you want to use it without setting to, drag the file to MPC-BE or use the context menu.
Playback starts when you drag the file.
If you have the context menu enabled Play with MPC-BEYou can also open it from.
DVD / BD playback
Protected DVD-Videos such as movies can be played, but protected Blu-rays cannot be played.
To play a DVD / BD, insert the disc in the drive and the menu bar will File In the menu Open disc Is displayed, and you can directly select the disk of the drive.
Open DVD / BD When you select, File Explorer opens, so you can also select the drive or DVD / BD folder in which the disc is set and play it.
Protected BD playback
Protected Blu-ray playback DVDFab Passkey for Blu-ray , Redfox AnyDVD HD It is possible by using together.

DVDFab's DVD / Blu-ray deprotection tool that also supports CPRM DVDFab PassKey is a copy game developed by Chinese software vendor Fengtao Software […]
Subtitles / audio
Switching between audio and subtitles is next to the control button AUD / SUB Done in.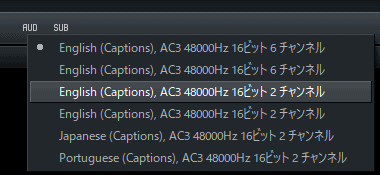 If multiple audio tracks are included AUD You can choose from.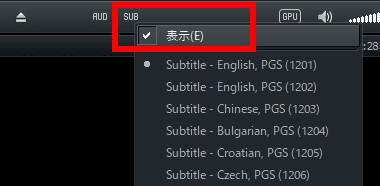 When displaying subtitles SUB で display If you check the box, you can select the language.
screenshot
You can capture the video being played and save the image, but continuous capture is not possible.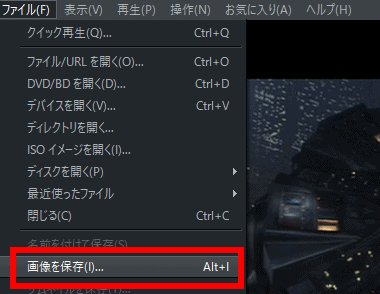 File Of Save image Or Alt+I A window for specifying the save destination opens with, so specify the location and save.
capture
MPC-BE can display video from external devices such as webcams and TV captures.
When it detects a supported device Options Of regeneration It is in capture Of Analog settings You can select from the video / audio list with.
Options Of capture After setting with File Of Open device The image of the external device set in is displayed.
Related article
Apple's multi-functional multimedia player iTunes is a multi-functional multimedia player developed by Apple that can play media files, Padcasts, Internet radio, and iT […]