Easy-to-use open source free codec checker with Japanese support
Media Info Is a software vendor based in France and the United States Media Area You can check the codec of video / audio files, frame rate, bit rate, file playback time, etc. with the open source free codec checker developed by.
System requirements
Version 22 as of
OS: Windows Vista / 7/8/10/11
Where to get the software
MediaInfo for Windows Official Download Page
Install MediaInfo
The MediaInfo installer does not include adware or spyware.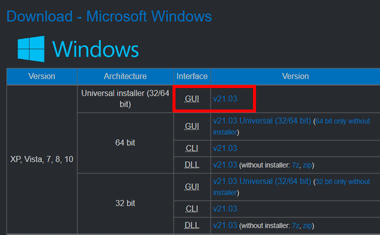 From the download page Universal Installer Download the GUI.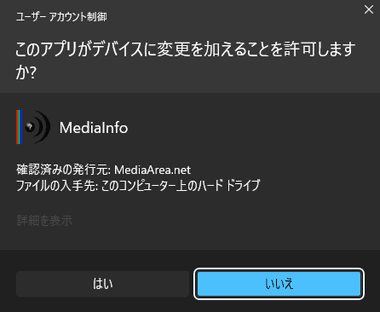 Launch the downloaded installer, and when the User Account Control message is displayed, click "Yes" to allow it.
Language selection Japanese Confirm that it is, and click "OK".
If you are not particular about the installation destination, click "Install" with the default settings.
Click "Finish" to complete the installation.

Since the setting screen is displayed at the first startup Language From the pull-down list of Japanese Select and click "OK".
Change settings
The setting screen is on the menu bar Options から Configuration choose.

Integrated into Explorer (Register in right-click menu of file) Is valid Add to folder When is enabled, MediaInfo can be started from the folder context menu (right-click menu), and the video and audio files in the folder can be displayed at once.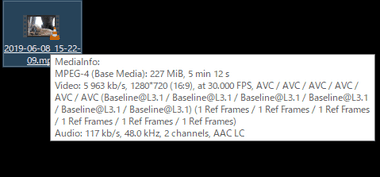 Tooltips (display tooltips on compatible files) in Explorer will display key information in tooltips when you hover over a video / audio file supported by MediaInfo.
Representation
MediaInfo display format Basic-Sheet-ツ リ ー-text-HTML-XML-MPEG-7-PBCore If you want to check the codec and bit rate of video / audio files, Basic-Sheet-ツ リ ー-textSelect from.
Basic
Display file format, size, time, video codec, audio codec, encoder, bit rate, resolution, frame rate, channel, sample rate, subtitles, etc.
Sheet / tree / text
It displays more detailed information such as bit rate mode and color depth, and the sheet tree text has the same items except for the display format.

The default display format is Output format Specified by.
How to use MediaInfo
Opening a supported media file in MediaInfo will display the media information.
Support format
mkv, mka, mks, ogg, ogm, avi, wav, mpeg, mpg, vob, mp4, mpgv, mpv, m1v, m2v, mp2, mp3, asf, wma, wmv, qt, mov, rm, rmvb, ra, ifo, ac3, dts, aac, ape, mac, flac, dat, aiff, aifc, au, iff, paf, sd2, irca, w64, mat, pvf, xi, sds, avr
Data displayed
Container (general)
File format, profile, size, recording time, total bit rate, encoder used, etc.
Video (video)
Video codec, bit rate mode, bit rate, aspect, frame rate mode, frame rate, color space, chroma subsampling, bit depth, etc.
Audio (voice)
Audio codec, bit rate mode, bit rate, channel, sample rate, compression method, language, etc.
Text (subtitles)
File format, language, etc.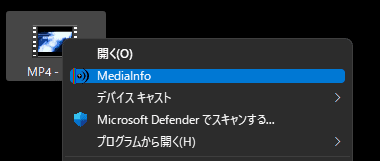 By default, the context menu (right-click menu) is enabled, so after selecting a file, select the context menu. Media Info choose.
In the settings Add to folder If you have enabled and loaded a folder, switch files in the drop-down list in the top address bar.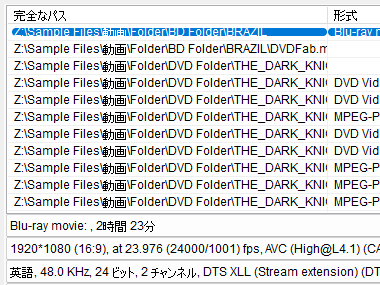 Sheet The imported file is displayed in the upper pane, and the information of the selected file is displayed in the lower pane.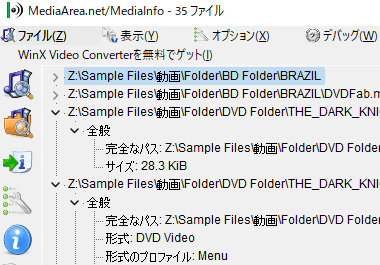 ツ リ ー-text When you load the folder with, all the files are displayed in a list.
export
The information displayed is CSV-text-Markup language-Metadata Can be output with.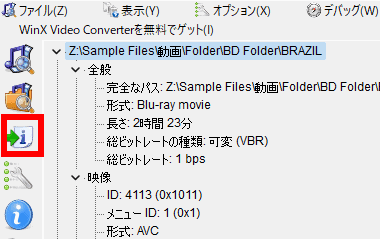 When outputting, in the left sidebar Export in custom format Select or in the menu bar File から export choose.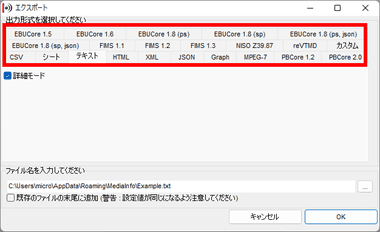 Select the file format to output from the tab, specify the save destination, and click "OK" to output.
CSV と Sheet The file output byWhen opening in MS Excel, it is in the Excel menu bar Data から Data acquisition Select From text or CSV Specify the output file with.
Related article
4K UHD resolution, viewing distance, and specifications such as HDR 2018K broadcasting, which started in BS / CS in December 12, has higher resolution, brightness, and brightness than terrestrial digital broadcasting, and the image quality is dramatically improved. There is. […]