VPN service with a reputation for performance with no logs policy
NordVPN Is a Lithuanian security provider Nord Security A VPN service developed by VPN, which is required for VPN Secure connection-Privacy protection-Anonymization In addition, it provides a wealth of functions such as connecting to video streaming sites such as Netflix, P2P connection, and access to the onion domain.AV TEST dataThen, it boasts the fastest speed in Asia.
NordVPN trademark is registered in Panama Tefincom SA Owned by (Cyprus lawyer registered with the company), Tefincom SA will be in November 2020 NordVPN SA Established in Panama to provide NordVPN contracts and services.
Privacy Haven
Panama where NordVPN is registered Privacy Haven In a country where user privacy is protected, as in 5 Eyes and 9 Eyes, public authorities do not force you to monitor specific IP addresses or log accounts.
transparency
Swiss audit corporation to become an independent third body in 2018 and 2020 PwC , 2021 and later American cybersecurity companies VerSprite You can check the audit results on the NordVPN account management page.
See below for VPN
Precautions when using VPN services on PCs and mobile devices Communication security is about 2014% in 50 due to Google's promotion of HTTPS that encrypts communication between web browsers and servers […]
System requirements
Version 6 Currently
OS: Windows 7 (sp1) /8.1/10
Where to get the software
NordVPN for Windows official website
How to purchase NordVPN (account acquisition)
If you use NordVPN, purchase a subscription and get an account before installing the app.
NordVPN purchase page Select any plan from.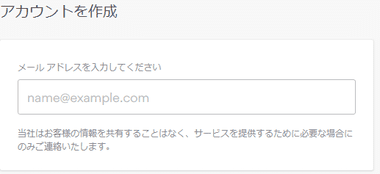 Enter your email address to create an account.
Payment can be made by credit card, PayPal, Google Pay, Amazon Pay, etc., and payment is made by Paddle, a payment agency service in the United Kingdom.
After completing the payment, you will receive XNUMX emails from NordVPN to the registered email address. Activate your account In the body of the email Activate Your Account Click
Set any password Create Password Click
Since you will be taken to the login page to the management screen Log in With Nord Account Click
Click the registered account (email address) to log in.
You can change the next billing date and plan on the management screen.
Suspension of subscription (suspension of automatic payment)
NordVPN has subscription renewals enabled by default.You need to contact the support center to stop renewing your subscription.
There is a subscription suspension request form in the NordVPN help.
Refund within the trial period (30 days)
If you request a refund using the 30-day money-back guarantee policy provided by NordVPN, contact customer service directly by email.

On the customer service contact page Please send an email Click or apply for a refund directly to support@nordvpn.com.
NordVPN installation
NordVPN The installer does not include adware or spyware.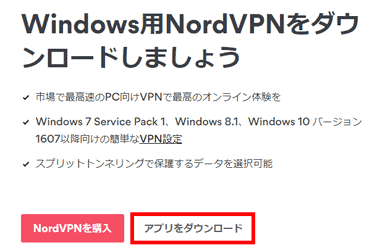 download pageClick "Download App" in.
Launch the downloaded installer and when the User Account Control dialog is displayed, click "Yes" to allow it.
If you are not particular about the installation destination, the default setting is "Next".
If you do not need to create a desktop shortcut and register the Start menu, uncheck it.
Click Install when you are ready to install.
When you install NordVPN NordVPN / NordVPN network TAP / NordUpdater Besides Visual C ++ 2015-2019 Redistributable Package (If not installed) Registered as a program NordVPN Uninstalling will remove everything except Visual C ++.
"Finish" completes the setup.
If the Time to update dialog is displayed after starting NordVPN Update and restart Updated with.
Click "Login" of NordVPN to open the browser, so log in with your NordVPN account.

When you log in with your browser, a dialog will be displayed. Click "Open NordVPN".
NordVPN will be available.
Configuration
Set the automatic startup when Windows starts and the protocol to be used.
The top right Configuration Click the icon.
General – General
The default setting for NordVPN is to enable automatic startup when Windows starts.
If you want to store in the task tray without opening the NordVPN home screen when Windows starts Launch the minimized app To enable.
Additional features of NordVPN CyberSec Turn on if you want to use.
CyberSec Is a DNS blocking feature that blocks network threats and ads, such as malware, phishing sites, and botnets, and blacklists user-requested access with NordVPN's DNS server to warn you of potential threats. The page is displayed.
Auto-Connect – Auto-Connect
NordVPN connects to the server recommended by the smart algorithm Automatic connection Is the default setting, and the protocol (communication protocol) for connecting is also set automatically.
When connecting to the server using any protocol Automatically select VPN protocol and server Turn off VPN protocol Select from.
NordVPN protocol is OpenVPN と NordLynx (WireGuard) can be selected,OpenVPN So the protocol is very stable TCP (Transmission Control Protocol), high communication speed UDP (User Datagram Protocol) is availablewire guard Is a communication protocol that uses the latest encryption technology with less source code than OpenVPN and IPSec, and NordVPN uses WireGuard by default to ensure user anonymity. NordLynx Is communicating with.

When connecting any server with automatic connection Automatic connection Specify the country and server to connect to with.
Kill Switch
Kill Switch is a feature that blocks the system from connecting to an unencrypted DNS server to keep it online if the VPN connection is lost for some reason.
Kill switch is disabled by default, so if you want to enable it Internet Kill Switch Turn on.
Split tunneling
Split tunneling Is a function to register applications that cannot be used when the VPN connection is enabled and exclude them from the VPN connection.
Exclude from VPN connection for split tunneling Disable VPN for certain apps And enable VPN connection only for the specified app Enable VPN only for selected apps After selecting according to the usage environment, specify any application with "Add application".
When split tunneling is enabled, a dialog about restarting the PC will be displayed. Restart after setting.
Advanced Setting
NordVPN is the default setting Collection of anonymous data Is enabled, so opt out if you don't need it.
Please cooperate in improving the service Turn off.
How to use NordVPN
If automatic connection is enabled, VPN connection is automatically established when Windows starts.
To disconnect the VPN connection, click the NordVPN icon in the system tray to open the home screen and click "Disconnect", or right-click the NordVPN icon in the system tray and turn off the power button.
Quick connection Use to connect to the recommended server.
To change the server to connect to, specify any country from the country list on the left sidebar.
Even if you click the pin directly on the map Fastest You can connect to the server in the settings, the pin will turn green for the connected location, and the information of the connected server will be displayed at the bottom.
P2P / Onions
When accessing an Onion domain using a server or Tor that supports apps that communicate via P2P Dedicated server To use.
Click P2P / Onion Over VPN to automatically connect to the fastest server and select any server from the 3-point reader.
Check for DNS leaks
Use a dedicated site to check if the IP address is properly protected when connecting to the VPN.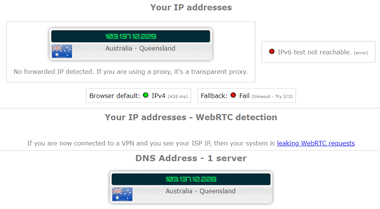 With a VPN connection established ipleak.net Access toYour IP address と DNS Address If is the same IP address and the country of the connected VPN server is displayed, the IP address is anonymized.
Related article
A VPN service that allows access to over 78 servers in 6500 countries and allows Netflix and P2P connections PureVPN is a VPN service provided by GZ Systems, a VPN provider established in Hong Kong […]