Free Android VPN app for secure communication
ProtonVPN Is a Swiss email / VPN provider Proton AG It is an open source VPN application developed by the company, which does not support Japanese, but there is no limit to the amount of data used even with the free plan, kill switch and DNS leak countermeasures are applied, user active logs are not saved, and advertisement display is also done. not.
transparency
VPN apps have a potential risk due to opaque internal processing,While it is rare for providers to publish audits of third-party organizations, ProtonVPN released the source of VPN apps ahead of other companies in January 2020, proving the reliability of the apps.
GitHub Official ProtonVPN Android app
SEC Consult Audit Report
Proton VPN Free
・ Number of devices that can be used with one account: 1
・ Connection server: Japan, the Netherlands, and the United States
・ Communication speed: Medium speed
-P2P connection: Not supported
-Secure Core: Not supported
· NetShield (adblock): not supported
・ Streaming service: Not supported
· Connecting to Tor: Not supported
Proton VPN Plus
・ Number of devices that can be used with one account: 1

・ Connection server: More than 63 units in 1700 countries

・ Communication speed: High speed (up to 10Gbps *)

· P2P connection: Support
· Secure Core: Support
· NetShield: Support
· Streaming service: Support

· Connecting to Tor: Support
See below for Windows version

ProtonVPN, a VPN service that enables the highest level of secure communication even with a free plan, is an open source VPN app provided by Swiss email / VPN provider Proton AG, and Japanese is not yet […].
See below for VPN
Benefits of using a VPN service and indicators when selecting a VPN provider Using a VPN service offers the benefits of secure communication, concealment of communication content, and anonymization of communication, and the location of the connection source by specifying a connection server. […]
System requirements
Version 4. 1 Currently
Android 6.0 or later
Where to get the app
App permissions
Wi-Fi connection and disconnection

Running foreground service

Full access to the network

Query all packages

View network connections

Prevent the device from sleeping

Run at startup
Install ProtonVPN for Android
Set up after installing the app from the Google Play store.
Install the app from the Play Store.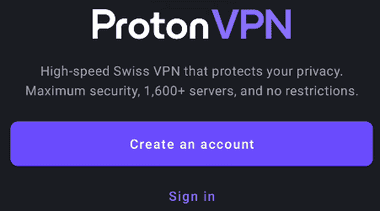 To get an account Create an account Tap.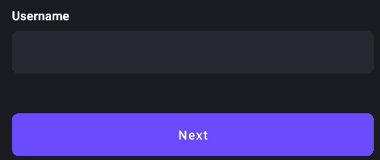 Enter the user name in single-byte alphanumerical characters and click "Next".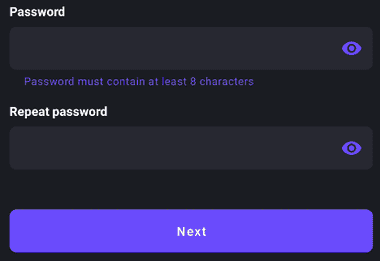 Set a password and click "Next".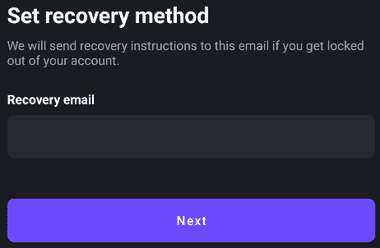 Set an email address to receive recovery methods when your account is locked.
CAPTCHA Check the box.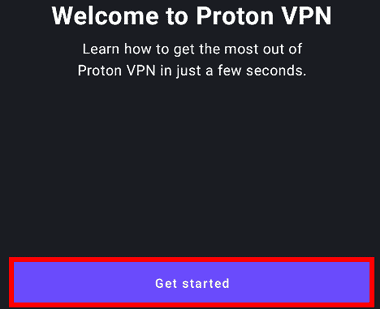 Tap "Get started".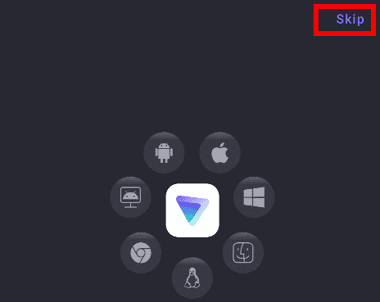 "Skip" as the tutorial starts.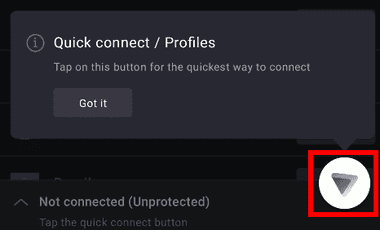 A balloon will appear, so tap "Got it" and then the ProtonVPN icon ( Quick Connect ) Tap.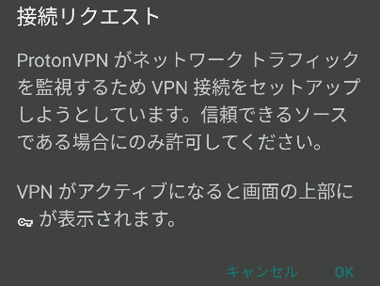 From android Connection request You will be asked for permission, so tap "OK" to connect to the VPN.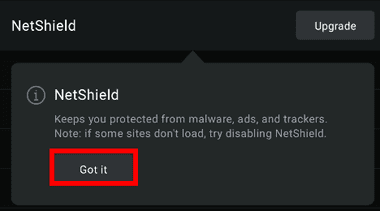 NetShield When the dialog is displayed, tap "Got it".
Configuration
Make settings such as VPN constant connection and kill switch.

From the hamburger button on the upper left Settings choose.

Quick Connect Now, set the server to connect to when you tap the ProtonVPN icon displayed on the home screen.
Fastest
Connect to the fastest server available
Random
Randomly select a connection server

VPN always connected と Kill switchThe setting of Always-On VPN & Kill Switch Tap.

Since Android settings are required, tap "Open Android settings".

When the VPN settings screen opens ConfigurationTap the icon.
Always-on VPN To enable.

Kill switchWhen using Blocking non-VPN connections To enable.
Kill switch is a function that blocks the system from connecting to a DNS server such as an ISP in order to keep the system online if the VPN connection is disconnected for some reason.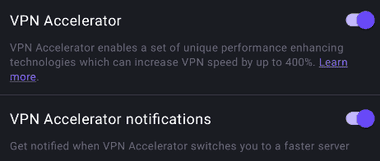 VPN Accelerator Is a ProtonVPN proprietary technology that distributes VPN traffic using a multi-core processor and improves VPN speed, and is enabled by default.

ProtonVPN DNS queries are processed by the connected VPN server andDNS leak protection (DNS leak protection function) Always validIt has become.

Allow Alterbative Routing (Alternative network routing) is a bypass function when Proton's site is blocked, and it is recommended to use it with the default setting.

Protocol Automatically selects the optimal protocol (communication protocol) Smart Is the default, tap OpenVPN / WireGuard / IKEv2 It is also possible to specify from.

Allow LAN connections Is a feature that allows you to connect to devices on your local network by bypassing the VPN connection, which is disabled by default because the communication is not encrypted.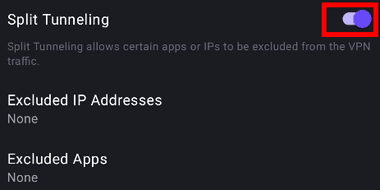 Split tunneling Is a function to exclude from VPN connection, and registers apps and IP addresses that cannot be used when VPN connection is enabled.
Split tunneling If you want to use, enable Split Tunneling, if you want to specify an app Exclude Apps Tap to specify the app to bypass, if you want to specify a specific IP address Exclude IP Addresses Tap and enter the IP address to bypass.
By default, anonymous usage report submission is enabled, so turn it off if you want to reject it.

Moderate NAT Enable if you have problems with online games or video conferencing when connecting to a VPN.
ProtonVPN provides excellent privacy protection by default Strict NAT Is enabled, butStrict NAT Has disadvantages such as slow connection speed and high ping rate, and when there is a problem playing online games when connecting to VPN Moderate NAT Improvement can be expected by enabling.
See below for password reset
How to use ProtonVPN for Android
ProtonVPN connects to the VPN by tapping the ProtonVPN icon after launching the app.

Quick Connect Connection destination Fastest If set to, the device will connect to a non-congested server in the nearest area (Tokyo).
When the connection is established, information such as the protocol, IP address, server, communication speed, etc. is displayed in addition to the country name of the connection destination, and tap "Disconnect" to disconnect the connection.
Countries You can specify the server to connect from the tab, but you can connect with the Free plan Japan / Netherlands / America 3 countries.
Secure Core
Secure Core The Plus plan ProtonVPN's unique architecture that can be used by the above paid members, by an attacker who is concerned about using a normal VPN server VPN server monitoring Function to avoid.
In countries where the Internet is regulated, such as China, Russia, and Turkey, or in countries where the Internet is monitored by countries such as the United States and the United Kingdom, and where VPN providers are legally enforced, traffic on installed servers is monitored. There is a risk that the VPN will lose its anonymity.

Secure CoreSlide the button to enable it.

Secure Core When enabled, privacy protection is enhanced Switzerland / Sweden / Iceland Since it connects to the server in the specified country after going through one of the servers installed in 55 countries, even if the traffic is monitored, it can only track the server that went through in the middle.
Add profile
If you want to connect to a specific server, you can register it as a profile. Quick Connect You will be able to connect with.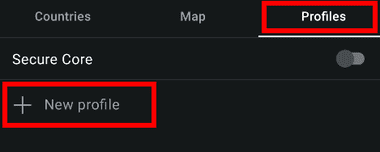 Profile registration Profiles から New Profiles Tap.

Set the profile name and display color.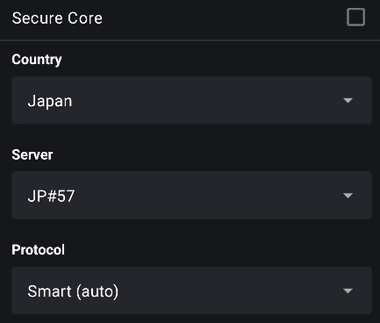 Secure Core Set the country / server to use, the protocol to be used, and the protocol to be used.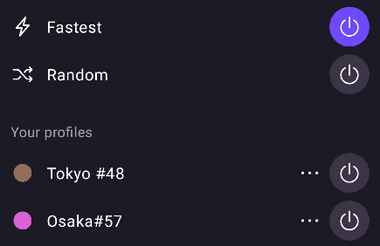 The registered profile is Profiles Added to and tap to connect.
Server maintenance and removal
ProtonVPN is undergoing extensive maintenance on an ongoing basis, adding new servers and deleting existing servers, and it may be necessary to change the settings of the connection server if it is registered in the profile.
Check for DNS leaks
Use a dedicated site to check if the IP address is properly protected when connecting to the VPN.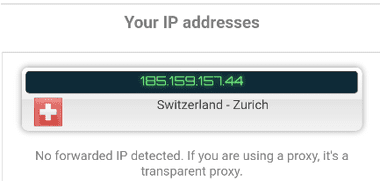 With a VPN connection established ipleak.net Access toYour IP address If the country of the VPN server connected to is displayed, the IP address is anonymized.
ProtonVPN upgrade
Full-featured ProtonVPN for paid plans Proton VPN Plus, Proton Mail and ProtonVPN available at full functionality Proton Unlimited There is.
Plus
・ Number of devices that can be used with one account: 1
・ Connection server: More than 61 units in 1300 countries
・ Communication speed: High speed (up to 10Gbps *)
· P2P connection: Support
· Secure Core: Support
· NetShield: Support
· Streaming service: Support
· Connecting to Tor: Support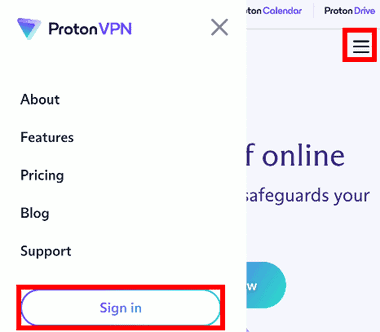 Plan upgrades are done from the ProtonVPN admin screen, so ProtonVPN official website Go to the hamburger button and click "Sign in".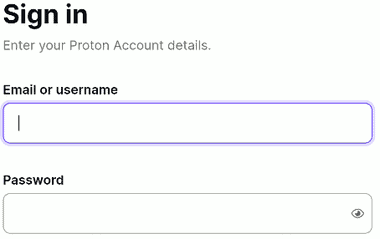 Enter your username and password and click Sign in.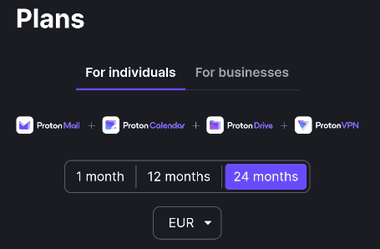 Plans Purchase a subscription at 1 month ・ 12 month ・ 24 month Select from and specify the settlement currency from EUR (euro), USD (US dollar), CHF (Swiss franc).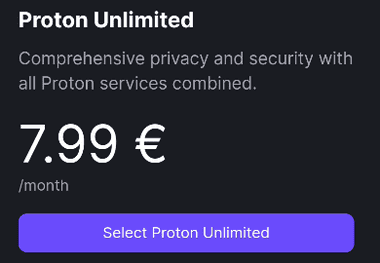 Proton VPN PlusOr Proton Unlimitedを 選 択.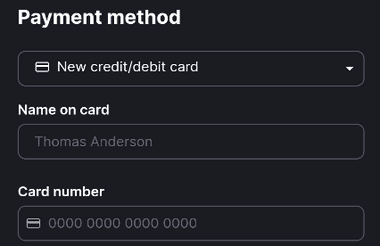 Enter payment information and settle.
Of the dashboard Billing The payment status is displayed in.
Subscription suspension
Purchased plans can be paid monthly or annually Subscription-style renewal enabledBecause it isPlan downgrade required to unsubscribebecome.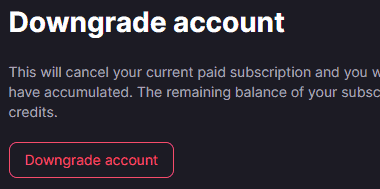 To cancel your subscription, go to the left sidebar Dashboard Select Account downgrade Downgrade to a free plan at.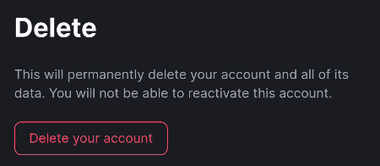 To delete the created account from the left sidebar Account Select and click "Delete your account" to execute the deletion.
Related article

Data such as usage is transferred to China Dangerous VPN app Turbo VPN is a VPN app provided by Singapore-based software vendor Innovative Connecting, Goo […]