VPN service with access to over 78 servers in 6500 countries, Netflix and P2P connections
PureVPN Is a VPN provider established in Hong Kong GZ Systems A VPN service provided by , which allows access to over 78 servers in 6500 countries, and implements security features such as a kill switch and DNS leak countermeasures.
Hong Kong Special Administrative Region National Security Law
Hong Kong on July 2020, 7 National Security Maintenance Law of the Special Administrative Region of Hong Kong, People's Republic of China Is constructed Maintaining national security With the justification of this, the Internet has become a target of surveillance just like mainland China, and the security of VPNs that emphasize privacy through anonymity has been severely compromised. Moved headquarters from Hong Kong to the British Virgin Islands called Privacy Haven.
transparency
PureVPN has adopted a no-log policy, but in 2017, at the request of the U.S. FBI, it submitted a network log (a record of users connecting to PureVPN) to help identify users and to help identify the user. Although the credibility was severely compromised, the privacy policy was revised in 2018 to be a US information system auditor. Altius IT , After 2019 KPMG Has received zero log certification from.
See below for VPN
Benefits of using a VPN service and indicators when selecting a VPN provider Using a VPN service offers the benefits of secure communication, concealment of communication content, and anonymization of communication, and the location of the connection source by specifying a connection server. […]
System requirements
Version 9. 6 Currently
OS: Windows 7/8/10/11
Where to get the software
PureVPN installation
PureVPN does not offer free accounts, so purchase a subscription and create an account before installing the app.

PureVPN official websiteIt is in Get PureVPN Click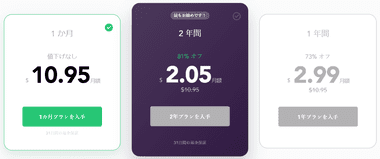 Select a plan to purchase.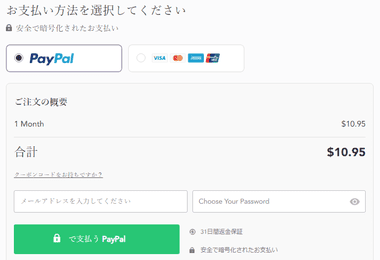 Used to log in to PureVPN Email Addressと PasswordAfter setting Credit card (JCB is not possible) PayPalSettle with.

If you have selected a 1-month plan, you will be advised to upgrade your plan after clicking the payment button. Continue with 1 month Click to continue.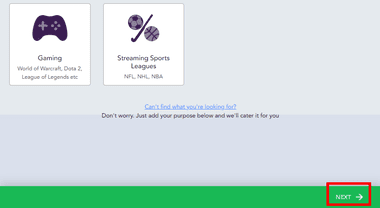 When the payment is completed, you will be automatically taken to the setup page, so click "NEXT".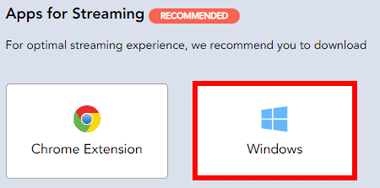 Windows Click to download the installer.
Launch the downloaded installer and when the User Account Control dialog is displayed, click "Yes" to allow it.
If there is no problem with the license agreement I have read the agreement and agree with all the terms and conditions of it. Check "Next".
If you are not particular about the installation destination, the default setting is "Install".
When the installation is complete, the login screen will be displayed, so select "Log in".
Log in with the email address and password you set when you purchased your subscription.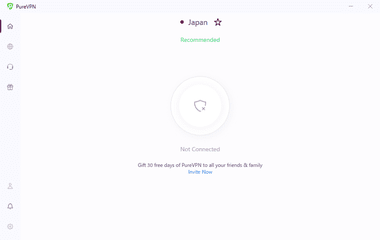 Setup is complete when PureVPN starts.
Configuration
Set the display language, automatic startup when Windows is started, protocol to be used, etc.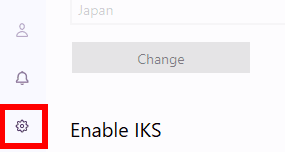 On the left sidebar Configuration Click the icon.
General – General
General Then set Language and Autostart.

Generalat the bottom of Select Application Language The Japanese change to.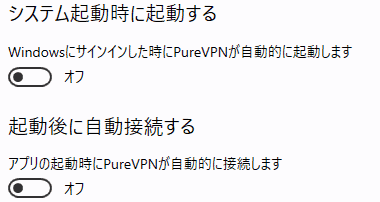 From the left sidebar Configuration and if you want PureVPN to start automatically when Windows starts, open Start at system boot The on To
Kill Switch – Internet Kill Switch
Kill Switch is a feature that blocks the system from connecting to an unencrypted DNS server to stay online if the VPN connection is lost for any reason.

Kill switch ( IKS ) is enabled by default.
Protocol – Protocol
PureVPN automatically selects the best protocol (communication protocol) Automatic protocol selection Is enabled, but you can expect an improvement in communication speed. wire guard If you want to use, you need to set it manually.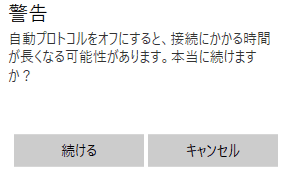 With the VPN connection disconnected Automatic protocol selection , and click "Continue" when the dialog appears.

Protocol selectionから wire guard choose.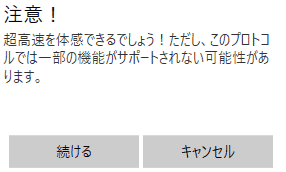 A dialog regarding function restrictions will be displayed.

connect to feedback Is a function that automatically connects with the next best protocol when it cannot connect with the selected protocol, so enable it.
Split Tunneling – Split Tunneling
Split tunnel Is a function to exclude from VPN connection, and registers applications that cannot be used with VPN connection.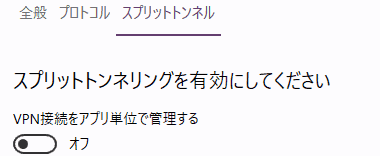 Split tunnel is disabled by default, so turn it on if you want to use it.

change app Specify the apps to exclude from the VPN connection with.
How to use PureVPN
If you log in during setup, PureVPN will start with you logged in until you manually log out, and if you have enabled automatic connection, the VPN connection will be enabled when you start Windows.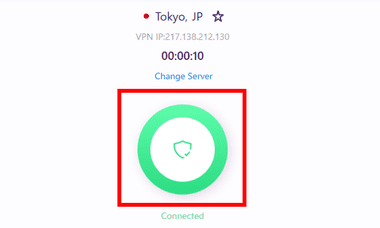 Click the shield icon on the home screen to switch between connecting and disconnecting to the VPN.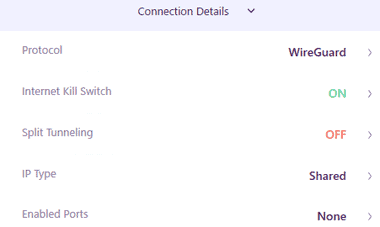 At the bottom of the home screen Connection Details You can check the current connection status by clicking.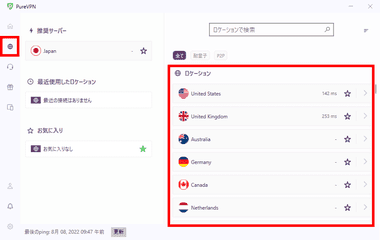 To change the location, click the location icon from the left sidebarLocation Specify the country to connect to from the list of.
Country name ms (Milliseconds) is ping value Data is sent and received at response speed Is displayed, and the lower the ping value, the faster the response speed.

You can also select a city by clicking the arrow to the right of the country name.

When using Peer-to-Peer ( P2P ) P2P Select to connect to a supported server.
Use in countries with internet censorship laws
In countries such as China, United Arab Emirates, Turkey, Egypt, and Iran, where the Internet is censored by the state, the use of VPN is also restricted, so if communication is blocked, specify the protocol quantum resistance ( Quantum Resistant ) to connect to a server that supports it.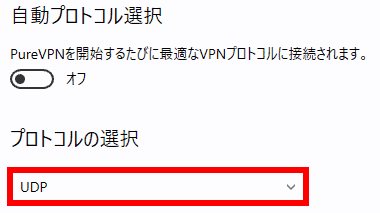 Configuration protocol at UDP change to.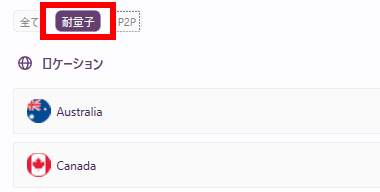 Location で quantum resistant enablequantum resistance ( Quantum Resistant ) to connect to a server that supports it.
Check for DNS leaks
Use a dedicated site to check if the IP address is properly protected when connecting to the VPN.
With a VPN connection established ipleak.net To access Your IP address と DNS Address If is the same IP address and the country of the connected VPN server is displayed, the IP address is anonymized.
Subscription suspension / refund procedure
Suspension of subscription is member page Do from.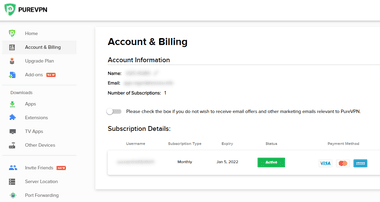 When you log in by entering your email address and password, the member page will be displayed.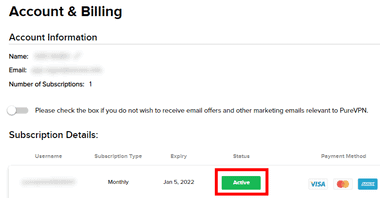 If the subscription is enabled, the status will be active It has become.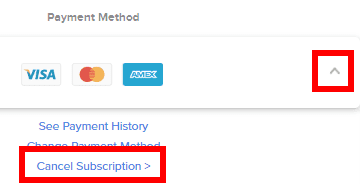 Payment MethodClick the arrow to the right of to display the menu. Cancel Subscription choose.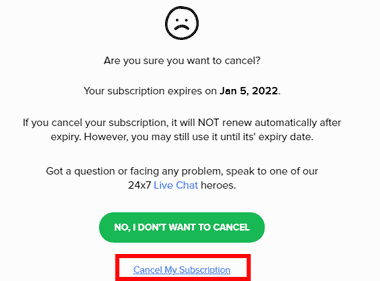 Cancel my subscription Click to stop automatic subscription renewal.
Unsubscribe with Paypal
If you paid with Paypal, you can cancel your subscription on the Paypal administration screen.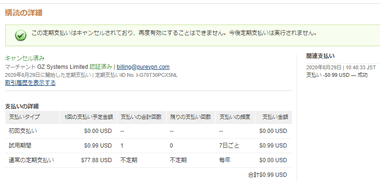 Confirm Paypal Transactions and Disable Automatic Renewal Payments
Refund procedure
PureVPN after purchasing the plan 31-day money-back guarantee Because there is Refund procedure pageYou can apply from , but you need to exchange XNUMX to XNUMX emails with support until you receive a refund.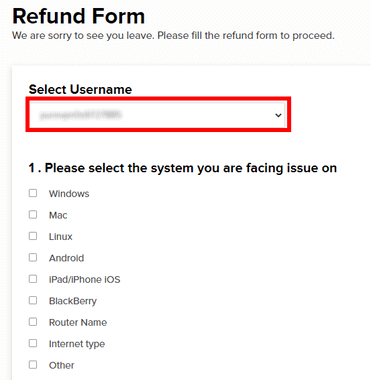 On the refund procedure page Select Username Select the account you want to apply for a refund from the list of.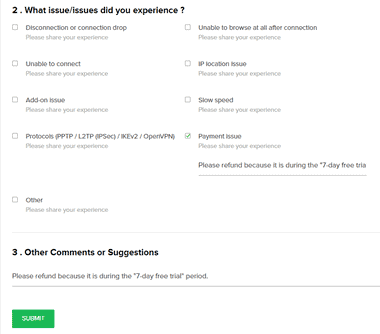 Select or fill in the reason for applying for a refund SUBMIT Send by.
Related article
A VPN service that allows access to over 78 servers in 6500 countries and allows Netflix and P2P connections PureVPN is a VPN service provided by GZ Systems, a VPN provider established in Hong Kong […]