An indispensable security tool when using free software
AdwCleaner Is an American security vendor Malwarebytes A standalone security app developed by Spyware, which is essential when using free software that can remove adware, spyware, PUPs (potentially unwanted applications), toolbars, and hijackers.
System requirements
Version 8 Currently
OS: Windows 7/8/10
CPU: Intel / AMD 2 MHz or higher with SSE800 support
RAM: 512 MB or more
Monitor resolution: 1024 x 768 and above
Where to get the software
ToolsLib Adw Cleaner Official Download Page
Install AdwCleaner
AdwCleaner works standalone, so no installer is needed.
On the download page Download Click
The application itself downloads it, so if you want to use it continuously, you can place it anywhere. AdwCleaner Move and save.
How to use AdwCleaner
AdwCleaner is completed in two steps: scan and delete.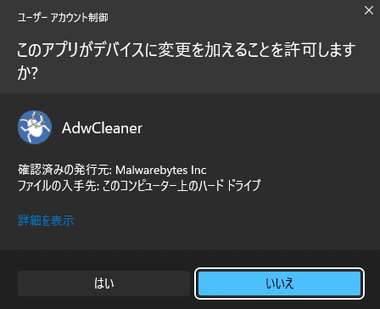 After starting AdwCleaner, if the User Account Control dialog is displayed, click "Yes" to allow it.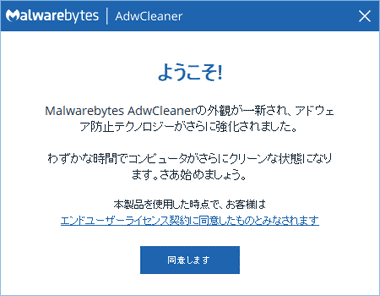 The license agreement will be displayed at the first startup, so if there are no problems, click "Agree".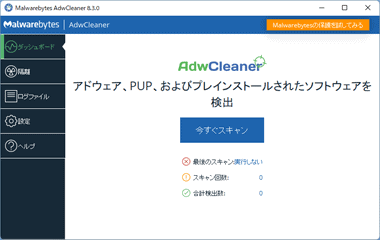 AdwCleaner will start, so before you run the scan Save all the apps you are working on and exitTo do.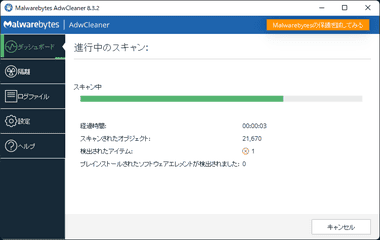 Scan now Click to start scanning for adware and suspicious files on your PC.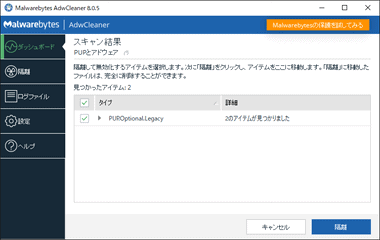 After scanning threat If is detected Types と Details Is displayed.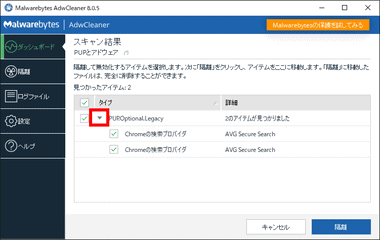 Types You can check the detected threats by clicking ▼.
The most commonly detected PUPs (Potentially Unwanted Programs) Potential threat-Unwanted programs It is a suspicious program that does not cause any direct damage, but if you delete it carelessly, it may cause problems with the application you are using, so be sure to check the details.
For detected threats Types and content of threats detected by AdwCleanerSee.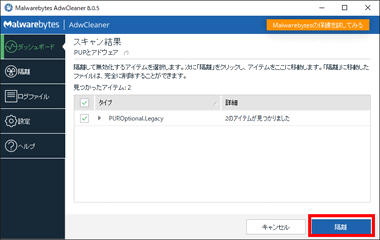 After confirming the item to be deleted, delete it and if there is no problem, click "Quarantine" to execute.

The process detected by "Continue" is forcibly terminated and quarantined, but if the program is locked and cannot be deleted, the PC needs to be restarted.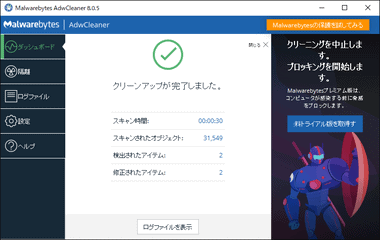 The results are displayed when the quarantine is complete.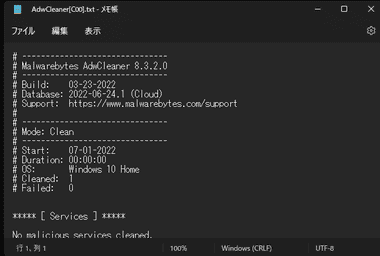 Click View Log File to open the contents of the cleanup performed in Notepad.
update
AdwCleaner will automatically check the version when it starts, and if there is an update, a dialog will be displayed.
Run "Download" to download to the same directory as your AdwCleaner.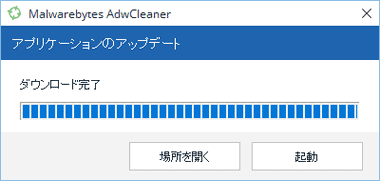 A startup dialog will be displayed for downloading, but the latest version will not start depending on the version you are using, so run the latest AdwCleaner downloaded from "Open Location".
isolation
After scanning with AdwCleaner isolation Has only disabled the threat and has not been removed.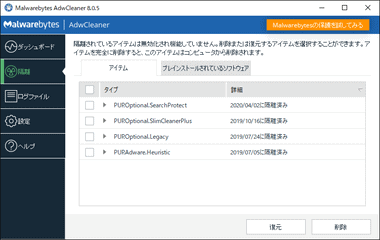 On the left sidebar isolation Will list the quarantined threats for each item 復 元 と Delete Is possible.
復 元 Is used when a problem occurs in the application in use due to quarantine of the threat, etc. Delete Detected threats Quarantine Completely remove from.
logfile
In the log file, you can check the contents of scans and cleanings performed in the past.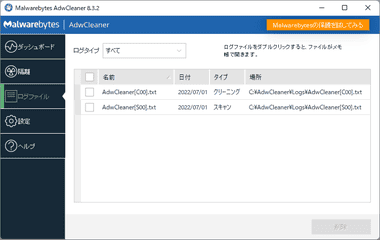 You can check the contents of the log by double-clicking the displayed log.
Configuration
AdwCleaner is fine to use by default, but by default Anonymously provide usage and threat statistics Opt out if you don't want to send data because is enabled.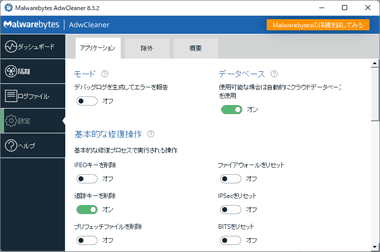 The database is turned on by default, but to keep up with the latest malware information Automatically use cloud database Leave the default settings.
Turning off the database uses the internal database, which is malware information at the time of AdwCleaner's release.
Uninstall
AdwCleaner is an application that doesn't need to be installed, but it stores files such as quarantined threats and logs, so if you want to remove it, Configuration Of Application On the tab Remove AdwCleaner To execute.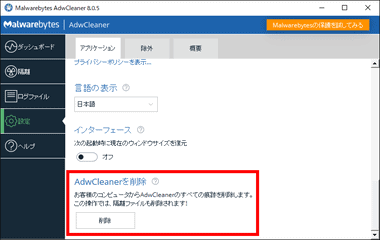 Uninstall Configuration Of Application On the tab Remove AdwCleaner Run with.
Basic repair operation
Perform basic repair operations Is an older version Options , Basic repair A function that resets or deletes parts that are likely to be tampered with by malware, such as Windows network settings.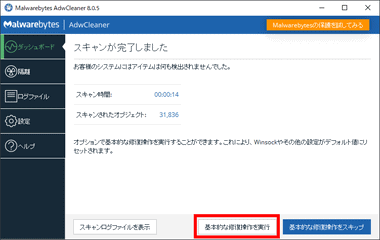 scan If no threat is detected after executionPerform basic repair operations-Skip basic repair operations Button is displayed.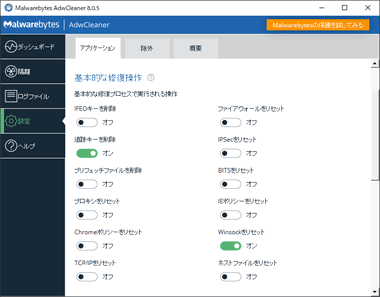 Items performed by basic repair operations Configuration Of Basic repair operation You can check with.
By default Delete tracking key (trace key) と Reset Winsock Only are enabled and both run if the malware has made changes.
Conflict with IObit
As posted on the Malwarebytes site, in 2009 Malwarebytes accused IObit of stealing its own database and intellectual property, and AdwCleaner PUP.Optional.AdvancedSystemCare Etc. Detect IObit programs as PUPs.


Why IObit is criticized and the dangers of apps IObit is a Chinese software vendor that develops system utilities and security software, and while it is notorious, it is highly rated by IObit Uninstaller and others […].
Related article
What to do when computer virus infection is suspected for free and basic knowledge of malware The two major functions of security software are antivirus and firewall, and antivirus mainly performs prevention, quarantine, and removal, and phi […]
AdwCleaner is a stand-alone security app developed by the American security vendor Malwarebytes, which is an essential security tool for using free software. AdwCleaner […]

Protect your web browser from threats on the Internet such as spyware and adware Free security tool that does not consume system resources SpywareBlaster is a US software vendor Brig […]

Spybot Search & Destroy, an excellent free anti-spyware and adware app that complements security apps, was developed by Team Spybot and is Safer-Networking L […] in Ireland.