Top-level free security software for both detection rate and false positive rate
Avast Free AntivirusIs a security vendor in the Czech Republic Avast Security software developed by, even in the free version Real-time protection-Firewall-Network security scanThe detection rate and false positive rate (false positive rate) are always at the top level, and it is popular in Japan because it is one of the few free security software that supports Japanese.
Avast personal data sale issue
January 2020 AVAST is a browser User data collected by security extensions , Aggregate and sell anonymous usage data Sold to subsidiary JumpshotIt was discovered that he was making millions of dollars in revenue.
At one point, the browser extension in question was removed from its store, and Avast shut down Jumpshot after it was criticized.
Go to the Avast Free Antivirus page We do not monetize data obtained from free users.is displayed for the above problem,

Accept anonymous data collection and data sharing with third parties when installing Avast Free AntiVirus

It's like
System requirements
Version 22 as of
OS: Windows 7/8/10/11
RAM: 1 GB or more
Storage: 2 GB or more free space
Where to get the software
Avast Free Antivirus Official Website Download Page
Avast Premier Security Purchase Page
Install Avast Free Antivirus
The Avast Free Antivirus installer bundles its own browser and Google Chrome.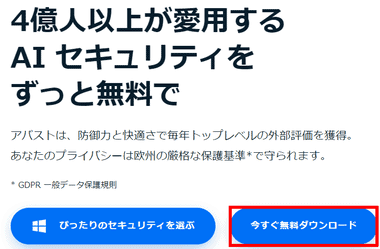 Download the installer from the Avast download page from "Free download now".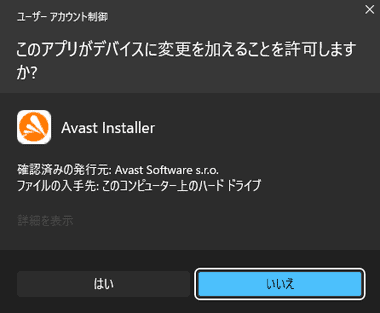 Launch the downloaded installer, and when the User Account Control dialog is displayed, click "Yes" to allow it.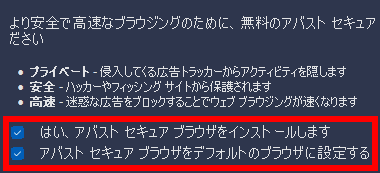 Developed by Avast in an environment where the Chrome browser is installed Avast Security Browser Is enabled for simultaneous installation, so if you don't need it Yes, install Avast Security Browser Uncheck to disable it.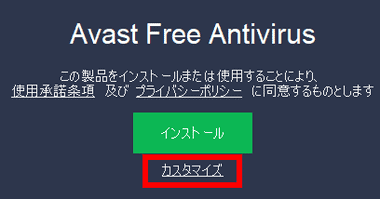 License terms-Privacy Policy if there is no problem with Customization Click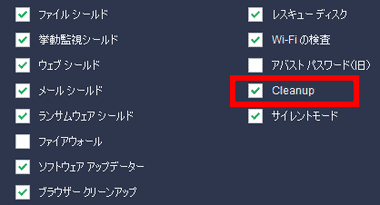 Recommended securityinstalls all features except firewall and password manager , Minimum configuration is installed with antivirus function only.
Firewall Is available free of charge, so enable it and install the module if you want to use it.
When the installation is complete, the wizard will be expanded, so click "Continue".
If the Chrome browser is not installed, the Chrome installation screen will be displayed after installation, so if you do not need it, select "I do not agree".
Select "Continue with free version".
Click "Run First Scan" to start the smart scan.
Smart scan Browser threat-Virus & Malware-Advanced problems 3 items.
Browser threat
A vulnerable extension (plug-in) will be detected, so delete or skip it if necessary.
Virus & Malware
If malware is detected, remove it.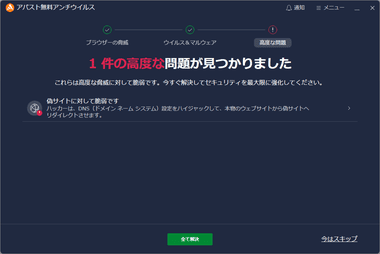 Advanced problems Then, vulnerabilities to firewalls and fake sites, etc. It is always detected if it is a PC with general settingsitem is displayed skip for now choose.
Advanced problems When written as Dangerous problem However, general browsers such as Chrome, Firefox, and Edge implement protection against spoofed sites (phishing sites).
Click "Finish" to finish the smart scan Avast Free Antivirus Is enabled.
An advertisement for Avast products will be displayed, so select "Later" to complete the setup.
Anonymous data transmission settings
Anonymous data collection と Data sharing with third parties Is enabled, so disable it if you want to refuse data transmission.

The top right Menu から Configuration choose.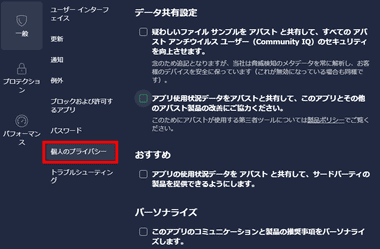 General Of Personal privacy to disable all items.
Email signature
Thunderbird , Windows mail When you send an email using an email client app such as, Avast's signature is automatically added.

It could be disabled in the previous version, but the signature cannot be removed in the current version because the setting item has been deleted.
How to use Avast Free Antivirus
Antivirus does not require any special action as real-time protection runs in the background.
The ability to protect your device from threats such as malware is on the left sidebar protection Can be set from, with Avast Free Antivirus Virus scan-Main shield-quarantine-network inspector-Ransom shield-Firewall Is available.
Virus scan
Performed during installation for virus scanningSmart scanIn addition,Full virus scan-Partial scan-Boot time scan-Custom scan Detects malware, Potentially Unwanted Files (SUS), and Potentially Unwanted Programs (PUP).
Main shield
Main shield is a module that monitors programs running on your PC, downloaded files, email attachments, etc. in real time. It is enabled by default, so no operation is required.
quarantine
quarantine Now you can see, restore, and remove threats that Avast Free Antivirus has detected and quarantined.
network inspector
network inspector is a feature that scans devices belonging to a network to detect vulnerabilities, and detects devices with security issues such as no password or bad password.
Ransom shield
Ransom shieldis a feature that protects target folders from ransomware, by default document-Picture-Desktop folderIs protected, and folders can be added.
Firewall
Windows standard Microsoft Defender Firewall Use Avast's Firewall instead.
Your Privacy
Your Privacy The menu monitors login information leaks on the dark web Hack alertOnly available, but the free version only applies to the email address used by your Avast account.
performance
performance In the menu, the notification is hidden when the registered application is displayed in full screen. Silent modeto check for updates for installed apps. Software updater Is available.
Related article

McAfee's security software that you can try McAfee Total Protection is a security software developed by the major security vendor McAfee LCC.