A free e-book app that allows you to upload up to 1000 ePUB/PDF personal files
Google Play Books Is an e-reader developed by Google on the Play Store. Books & Manga You can browse e-books sold at, as well as ePUB / PDF personal documents. Play books Can be saved and viewed in the online storage of.
System requirements
Version 2023 Currently
OS: Android 5.0 or later
Where to get the app
Google Play Store Google Play Books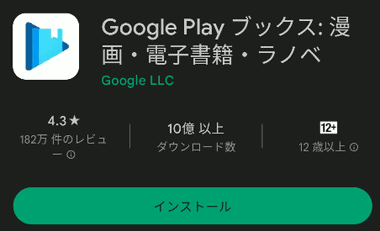 If it is not pre-installed on your device, install the app from the Google Play store and then set it up.
Google Play Books for web

Google Play Books, a free e-book platform that allows you to upload up to 1000 ePUB/PDF personal files, is an e-book platform developed by Google that allows you to upload up to 1000 […]
Data collected
Personal information such as user name, address, email address, user ID, phone number, date of birth

History of purchases and transactions made by users

写真

Contact registration information

Information on the operation of the app ・Search history in the app ・Installed apps

crash log

Information about app performance

Device or other ID (IMEI number, MAC address, Widevine ID, Firebase ID, advertising ID, etc.)
Playbooks for Android settings
By default, uploads from Play Books are disabled, so enable uploads if you want to save your personal documents to Play Books online storage.

At the far right of the search bar AccountTap the icon Play books settings choose.

Enable PDF upload To enable.
Playbooks online storage is separate from the shared space with Google Drive and Gmail Save up to 1000 original documentsit can.

Book downloads with default settings Wi-Fi onlyIf you use a mobile network, disable it.
How to use Play Books for Android
Play Books books Bookshelf The titles of the series that I purchased can be organized in Series It is summarized by.
Original documents stored in purchased books or Play Books storage Library Access from.

The library is My book-Bookshelf-Series In addition,Unread / Reading , Author's name It can be extracted with a filter such as.
My book
List all titles
Bookshelf
View user-created bookshelves
Series
View all series purchased from the Play Store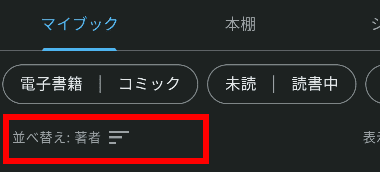 My book-Bookshelf-Series Is the displayed title Author / Recently / Book title Can be sorted by.

Bookshelf The Create New You can add it freely with, and the created shelf is displayed at the top.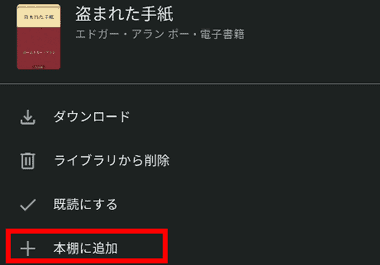 To move to the bookshelf, long-tap the listed titles, or open the menu from the three-point reader on the far right and open the menu.Add to bookshelf Specify the destination bookshelf with.
Download
Download and browse the books displayed in the library.

For books that have not been downloaded to your local storage Download The icon is displayed.

Tap a book to download and display the content.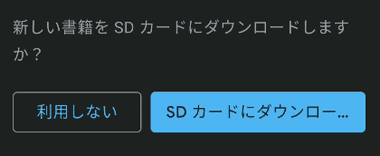 If the device has an SD card installed in the external storage, a dialog will be displayed during the first download, and selecting "Download to SD card" will save all subsequent books to the SD card.

To change the settings, use the account icon Play books settings It is in Download new books to SD card To disable.

If you want to remove downloaded content from your device, use the book's 3-point reader. Delete download .
Viewer
Optimized for viewing content purchased from the Play Store, it also supports zoomed-in balloons, etc., but ePUB files for personal documents (including books from other companies with DRM removed) have a vertical layout depending on the content. It is not displayed correctly, and it is difficult to use, such as page breaks and imbalanced margins.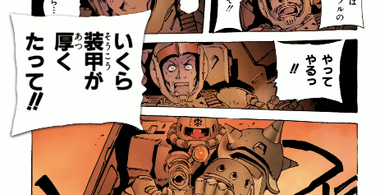 The balloon enlargement function is convenient when viewing manga on a device with a high screen resolution and a small monitor, such as a smartphone.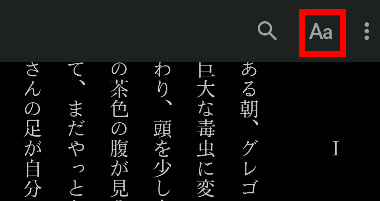 For book text, swipe down on the top margin, and you can zoom in and out and edit line spacing in the text settings.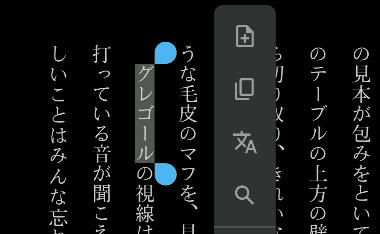 You can select a range of text with a long tap, and you can add markers, memos, etc. from the toolbox.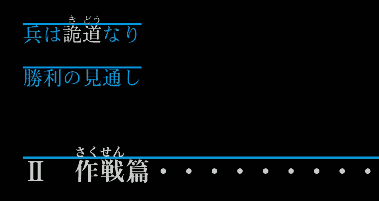 Other ebooks Caliber , epubor The vertical layout may not be displayed correctly for files converted to .ePUB by such means.
Upload
Files that can be uploaded to Google Play Books EPUB と PDF Only in format, files such as Word and Excel will be rejected by the server side when uploaded, and other e-books and archive files such as ZIP and AZW3 will cause an error after uploading and cannot be viewed.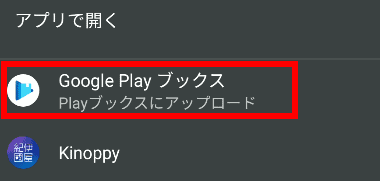 Configuration If uploading is enabled in , when you tap an ePUB/PDF file, Google Play Books Will be added, soGoogle Play Books choose.

A dialog will be displayed and click "OK" to start uploading.
Delete uploaded file
Since you cannot select multiple books in the library, you need to delete the uploaded files individually.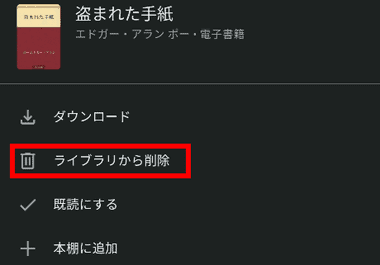 Long-tap the title you want to delete, or open the menu from the three-point reader on the far right.Removed from library choose.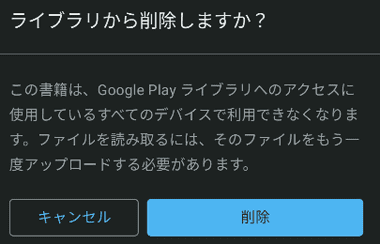 A dialog will be displayed, so click "Delete" to execute.
Google Play Books & Manga DRM
Google Play Books & Manga The ebooks purchased at are using Adobe's DRM, soAdobe Digital Editions Install on your computer,epubor You can unprotect books by usingKinoppy It can be viewed with an e-book reader such as.
Epubor All DRM Removal, a DRM removal app for Kindle / Kobo and ACSM ebooks, was developed by Chinese software vendor Wuhan JinDu Technology Ltd. […]
Related article

The Adobe Express graphic design app, an image editing app that allows you to create royalty-free posters and flyers that can be used commercially, is developed by US software vendor Adobe Inc […]
Kinoppy for Android, a cloud-based free e-book app that allows you to use original files, is an e-book reader released by Kinokuniya Bookstore, and can correctly display Japanese-style books such as vertical writing and right-binding […]

Google Play Books is a free e-book app that allows you to upload up to 1000 ePUB/PDF personal files. Google Play Books is an e-book reader developed by Google.