Introducing Leawo sale information, purchase procedure and license registration method

LeawoIs a software vendor based in Shenzhen, China Moyea Software Is a brand of multimedia tools developed by Moyea Software for products in China and products for overseas. Leawo software A total solution app for copy ripping that implements the copy guard release function for DVD / BD. Leawo Prof. Media In addition to releasing video encoders, DRM removal apps, etc. at a reasonable price, a free Blu-ray player Leawo Blu-ray Player Are offered.
Current Sale (Updated June 2022, 12)
title:new year sale
Period: November 2022, 12 ~
Sale contents
XNUMX% OFF for a limited time
XNUMX% OFF for a limited time
XNUMX% OFF for a limited time
XNUMX% OFF for a limited time
XNUMX% OFF for a limited time
XNUMX% OFF for a limited time
XNUMX% OFF for a limited time
Leawo purchase procedure
Leawo is an all-in-one with multiple modules available, or you can purchase only the required modules (features) separately.
All-in-one The license is permanent Indefinite edition Only with a major version upgrade, there is no need to renew the license and the update is applied, so the cost performance is high.
Purchase non-sale items such as the subscription version from the store page.
The display method differs depending on the product, but the expiration date of the license 1 と permanent Choose from two choices.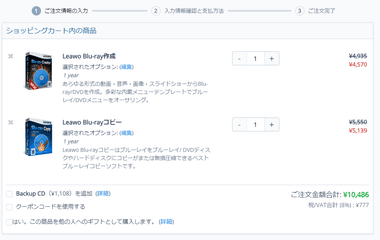 Check the contents and amount of the cart.

Settlement is a global settlement agency service 2Checkout Made inCredit card-Convenience payment-Bank Transfer Is available and if you choose bank transfer WIRE Transfer Select the icon.
The transfer destination of the bank transfer is the storage agency Global Collect Japan Of Sumitomo Mitsui Banking Corporation Hydrangea Branch .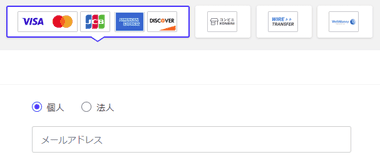 Select a payment method Email Address と Payment informationEnter and click "Next".

Click "Confirm Order" when you are done.
To the registered email address when payment is authenticated 2Checkout supportThe URL to get the license key from Order confirmation emailYou will receive a license key by clicking the link in the message.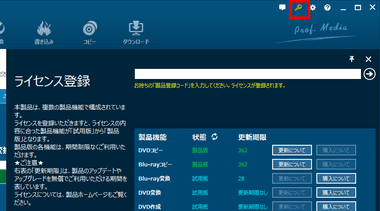 Launch the Leawo app and click the lock icon in the upper right License registration Paste the displayed license code into the text box of (Ctrl + V) and click the arrow to activate the purchased product.
Lost order confirmation email
If you lose your order confirmation email, go to Leawo's official website order number , Email Address Can be retransmitted by inputting.

Re-acquisition registration code page Enter your email address or order number in and click "Send".
Stop automatic update
To disable the automatic renewal of the subscription version, set it from the management screen of 2Checkout.

Global payment service 2 How to stop payment and subscription (subscription) with Checkout 2Checkout is a group that provides a general e-commerce system that is often used in payment services for overseas applications […]
Related article

A reasonable all-in-one video downloader that can remove DRM from video streaming services and video sites and download videos CleverGet is a Chinese software vendor Moyea S […]