Ripper software that converts Blu-ray content to video files and BD folders
VSO Blu-ray Converter Ultimate Is a French software vendor VSO Software The ripping software developed by is able to output unprotected Blu-ray to various file formats such as MP4 / MKV / BD folder / ISO image file.
VSO Blu-ray Converter Ultimate does not have a function to remove copy protection of Blu-ray such as AACS, so if you use protected BD, it is separate.
DVDFab Passkey for Blu-ray
,
AnyDVD HD
You need an unprotection app.
VSO DVD Converter Ultimate has full functionality for 7 days from the first use, and the output time etc. will be limited after the trial period ends.
System requirements
Version 4. 0 Currently
OS: Windows 7/8 / 8.1 / 10
CPU: Intel Pentium 3 / AMD Athlon and above
RAM: 1 GB or more recommended
Confirmed to work on Windows 11.
Where to get the software
VSO Blu-ray Converter Ultimate Official Download Page
Install VSO Blu-ray Converter Ultimate
The VSO Blu-ray Converter Ultimate installer does not include adware or spyware.
After accessing the download page of the official website, click "Free download" in English to download the installer.
The Japanese page of VSO Blu-ray Converter Ultimate will move to the site of the domestic reseller, but the reseller offers the old version 3.6.0.47 (released on December 2015), so the latest version 12. We recommend getting 4.0.0.100 (released 2019/11/XNUMX).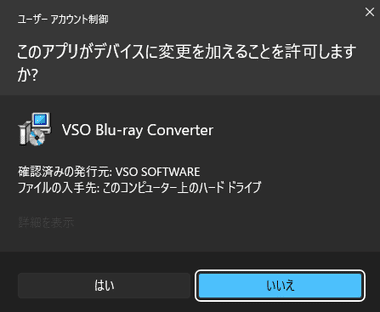 Launch the downloaded installer, and when the User Account Control dialog is displayed, click "Yes" to allow it.
Language selection Japanese "OK" as it is.
The setup wizard will start, so click "Next".
Check the license agreement and if there is no problem I agree Check "Next".
If you are not particular about the installation destination, click "Next" with the default settings.
Click "Next" to specify the program group with the default settings.
To select additional tasks, check any item and click "Next".
Now that you are ready to install, check the contents and click "Install".
The details of the version upgrade will be displayed, so click "Next".
Click "Finish" to complete the installation of VSO Blu-ray Converter Ultimate.
basic configuration
Review the settings before using VSO Blu-ray Converter Ultimate.
Output destination setting
The output destination cannot change the location when the process is executed, so the output destination is on the C drive. Document folder If you want to save other than, change the setting.
Of the tool icon General settings Click or in the top menu bar Configuration から General settings choose.
From the left sidebar Output folder Select in the right pane Output folder Change the location of to any location and confirm with "OK".
Quality setting
If you want to improve the quality even if it takes some time to process,Use the highest quality setting と 2 Pass encoding To enable.
On the menu bar Configuration から Conversion options Of Use 2-pass encoding と Use the highest quality setting Click to enable.
Use the highest quality setting There is no change in settings such as the bit rate, but special settings for improving image quality are applied, and the details become clearer.
VSO Blu-ray Converter Ultimate handles variable bit rate mode (VBR) when generating video files from Blu-ray when encoding is required, and 2-pass encoding captures information for the entire video. After that, the bit rate can be distributed efficiently and encoding can be executed.
If it is not checked, 1-pass encoding will be performed and the processing time will be shortened, but the bit rate may be insufficient and block noise may occur depending on the scene.
Scaling filter changes
VSO Blu-ray Converter Ultimate can be scaled to any resolution, and by default the filters are both upscale and downscale. Linear It has become.
Scaling filters have some sort of compatibility depending on the source, and it cannot be said unconditionally which filter is good, but as a filter that allows relatively high quality scaling even on the official website. Lanczos Is listed, so the default scaling filter Lanczos Change to.
General settings Of Video resizing method で Upscale resizing filter / Downscale resizing filter The Windowed sinc Lanczos change to.
How to use VSO Blu-ray Converter Ultimate
VSO Blu-ray Converter Ultimate can only be used with unprotected Blu-rays, soDVDFab Passkey for Blu-ray When used in combination with, you can rip protected Blu-rays.
DVDFab's DVD / Blu-ray deprotection tool that also supports CPRM DVDFab PassKey is a copy game developed by Chinese software vendor Fengtao Software […]
Supported output file formats
MP4 / MKV / AVI / MOV / Mpeg2
Import and delete Blu-ray
Content capture Blu-ray discs, Blu-ray folders, ISO files Supports.
Blu-ray capture Load from disk Specify the drive withBD folder / ISO file Drag to the center of the VSO Blu-ray Converter Ultimate screen or use the tool icon Add video file Click to select the content to import.
Source reading starts.
DVDFab Passkey , AnyDVD HD If you load a protected disk without using it together, a dialog will be displayed and reading will be interrupted.
Multiple titles can be added when outputting in the same format.
When adding a title Do you want to clear the existing title? Dialog is displayed multiple times, so select "No" for all to add a title.
VSO Blu-ray Converter Ultimate can perform multiple tasks at the same time, so if you have a PC in a multi-core environment with plenty of resources, the processing will be faster.
To delete the added title, click the title part to select it, and then click the tool icon. Delete project Click
Output to video file
When outputting Blu-ray content to a video file, the quality factor is set by default. High quality with no upper limit on file size Because it isUse the highest quality setting と 2-pass encoding If is enabled, you can get high quality encoding even with the initial settings.
A file format that is highly versatile and has a good balance between image quality and file size. MP4 (H.264 + AAC / H.264 + MP 3).
Target size setting and quality adjustment Quality factor Of VSO default Click
No size limit, quality factor used With is selected, move the slider to adjust the image quality.
The default value of "0" is recommended, and the target bit rate for video is 12 Mbps.
The slider can be moved up to 50% left and right, and the target bit rate at maximum increases to 18 Mbps.
If the target file size is fixed Custom (specified in MB) Specify the file size with.

After setting the audio and subtitles, click "Start".
Customize
The registered profile is Change resolution, bit rate, subtitlesEtc. can be changed in a wizard format and can be registered as an original profile.
Click the settings icon for the profile you want to base it on.
Enter any profile name and click Next.
Both video and sound Lossless If you want to output with (no deterioration) If possible: Copy (remultiplexing process) Check the box.
Change resolution When doing (scaling) Video track Of Video resolution Specify any resolution from the list with.
If there are subtitles Embed in video Burns (renders) the specified subtitles to the video, DVD Subtitle Stores (multiplexes) in a file.
Lossless output
With the registered profile Lossless Possible video formats MKV Only copy the video and sound files stored on the Blu-ray for remultiplexing.
For lossless output MKV Of MKV – Full remux choose.

After setting the audio and subtitles to be stored, click "Start".
Copy
VSO Blu-ray Converter Ultimate can output Blu-ray disc data as a Blu-ray folder, and you can seamlessly copy Blu-ray by writing the output Blu-ray folder to blank media such as BD-R.
General settings Open Blu-ray / AVCHD output Of Menu template Select in the right pane Blu-ray menu template Specify any menu from the list of.
General settings Set the operation during Blu-ray playback with.
Blu-ray has a resolution of 1920 x 1080 Blu-ray 1080p choose.
Check the audio to be stored in the file.
Click the comment icon in the title and select the subtitles you want to store in the file.
At the bottom User output size Check that the size is the same as the blank disc used by, and if the size is different, click the displayed size.
BD-1 for single-sided single-layer Blu-ray-R

BD-2 is a single-sided dual-layer Blu-ray-R DL
Since the setting screen opens, select the output size from the list, and the dialog for applying the setting is displayed. Click "Apply changes only".
If you want to write to a blank disk after outputting the file, select the menu bar. Configuration から Main settings Of writing Select, After conversion, write Blu-ray / AVCHD project Check the box.
When the output settings are complete, click "Start" to execute the process.
The progress is displayed in a separate window during the conversion.
If writing is enabled, the writing function will be activated after the file is output and there will be voice guidance, so if you insert a blank disc, writing will start.
Detailed editing
VSO Blu-ray Converter Ultimate Detailed editing You can edit cuts, increase / decrease chapters, and adjust image quality with.
When editing, the title Detailed editing Click
Select any menu from the icon menu on the left, edit it, and select the menu bar. Save and close Reflect the contents with.
If you want to extract an arbitrary range, use cut editing. Start / end point After specifying Invert the cut Let
How to buy VSO Blu-ray Converter Ultimate
VSO uses the global payment agency service 2Checkout, which accepts credit cards, PayPal, and convenience store payments.
VSO Blu-ray Converter Ultimate purchase page
DVD ripping is possible with almost the same operation as VSO Blu-ray Converter Ultimate VSO DVD Converter Ultimate Buy at the same time and get 30% off.

VSO DVD Converter Ultimate, a ripping software that converts DVD contents to video files and DVD folders, is a protection developed by French software vendor VSO Software […]
See below for 2Checkout payment methods

Global payment service 2 How to stop payment and subscription (subscription) with Checkout 2Checkout is a group that provides a general e-commerce system that is often used in payment services for overseas applications […]
Once you have the license key, VSO Blu-ray Converter Ultimate HELP から Enter license key choose.
Paste the license key and click Submit to activate the product.
Related article
DVDFab Blu-ray Ripper is a Chinese software vendor DVDFab Software (formerly Fengtao So […]], a ripping app that implements a copy protection removal function to convert Blu-ray to video files.
DVDFab Blu-ray Copy App with copy protection removal function DVDFab Blu-ray Copy is a Chinese software vendor DVDFab Software (formerly Fengtao Software […]
Leawo's Blu-ray copy module with copy protection removal function Leawo Blu-ray Copy is a Blu developed by Chinese software vendor Shenzhen Moyea Software […]